As a history student and travel enthusiast, discovering that Histsoc were to be going on tour to Prague filled me with excitement. A city saturated with culture and memory? Yes please. Yet, after eagerly purchasing my ticket no more than thirty seconds after their release, my enthusiasm was swiftly met with claims that society tours are less about sight-seeing and significantly more about the 'sesh'. So, was I to travel to a stunning city to see little more than the four walls of my hostel room; was it to be all hangovers and no history?
In short, no. The reality was far from this melancholy myth. My experience of a society tour centred around first-class company, fantastic food and fanciful views. Initially, I was surprised at how well organised the trip was – shout out to our Tour Execs – our travel from London to Prague could not have gone more smoothly, the hostel was much better than anticipated and our location was perfect. It was time to explore. Following a hasty unpacking, I was on my way for a traditional Czech dinner and a quiet cocktail, no binge drinking for me. The option was there, but our tour was characterised by the extensive freedom to decide for yourself if you'd be waking the next morning with a pounding head, or a pounding heart; I chose the latter, eager to explore the stunning city.
It is now that I should clarify that I am certainly not one to abstain from a drink – or five – and the following two evenings consisted of a wild bar crawl on the Friday, and a boat party along the River Vltava on the Saturday. The bar crawl certainly wasn't one for the faint-hearted, commencing with an hour of free vodka, wine, and beer – not forgetting the absinthe – was certainly taken advantage of. Further still, the bar tender on the boat party completely disregarded the concept of a shot as he excessively filled half a glass with spirit topped with a splash of mixer to make you feel marginally better about your life choices. So yes, alcohol was a component of the tour, but it wasn't compulsory and nor was anybody made to feel that it was. Perhaps I was just lucky to have gone on tour with an accepting and genuine group of people, but ultimately, society tours give you independence to make your own choices amongst like-minded people. Perfect.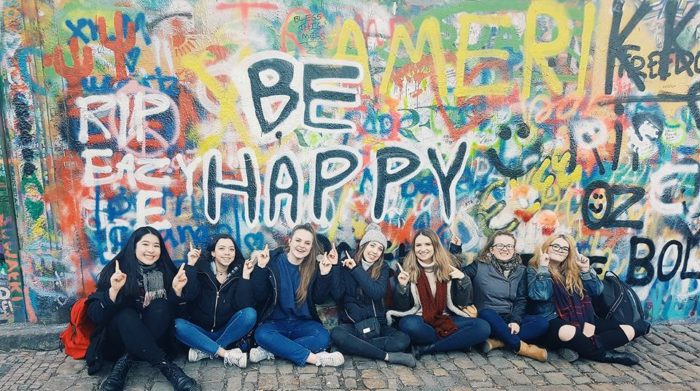 I would be lying if I were to claim that I was not a – slightly grouchy – hungover zombie as I wandered around Prague castle on the Saturday afternoon, but it was self-inflicted; no sympathy for me. I cannot stress enough the element of choice available to you on tour, and I certainly took in the incredible past of the historic city despite my foggy head. Our walking tour was fantastic, with a knowledgeable guide that took us on a journey through the history of Prague. Moreover, the communist museum – although largely underwhelming – was practically next door to the hostel; we were immersed in culture, it was inescapable, especially if you were keen to explore.
In short, yes, a society tour will involve alcohol, but no, it does not mean you will miss out on the traveller's experience. As somebody that yearns to see the world, I would encourage anybody wanting to see the cities of Europe on a budget whilst surrounded by great people, to consider a society tour. Trust me, you won't regret it.
Related Posts