We may be living in an era of alternative facts and post-truths but here's a fact for you that's true: RESIST! managed to raise £1120 when it opened its doors last Thursday night to fierce and angry students.
The event was held at Altoria, who graciously offered the venue free of charge, and was organised
by Warwick Pro Bono in aid of the Coventry Refugee & Migrant Centre (CRMC), an organisation that supports refugees in settling into the UK and provides free legal advice and assistance with applications. Warwick Bar Pro Bono is a charity that supports barristers in providing free legal aid to those who need it most.
The CRMC welcomes immigrants who have been relocated to Coventry and helps in meeting their application and practical needs as they settle into their new homes. The CRMC also provides financial aid through the Coventry Destitution Fund—which is used to help families purchase clothing, school uniforms and supplies for children, cooking utensils, as well as other practical items.
More importantly, they also provide therapy support, services ranging from information-education activities focused on emotional and mental health, to specialist counselling and art therapy for individuals suffering from complex trauma.
Excluding the £120 in fixed costs, the money will be split equally between Warwick Pro Bono and the CRMC. The contribution of £500 to the CRMC would be timely given to major cuts in welfare and support for refugees.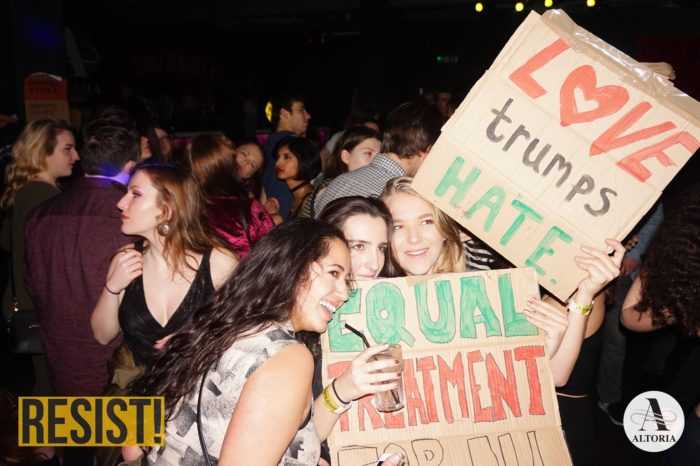 Logistically speaking, the event was organised by Ellice Mansfield, a third year Politics student, and Annabel Pemberton, a second year Law student. I asked Ellice about the overwhelming support RESIST! received: "I was so surprised by the turnout! I knew we had done all we could to publicise the event but had absolutely no confidence that people beyond our immediate friends and flatmates would support us."
She added that "the space at Altoria is extensive so I'd come to terms with the possibility that it could look empty but luckily the risk of choosing Altoria as the venue paid off. Altoria was kind enough to let us hold the night free of charge, we just had to cover the costs of security."
Ellice, who has aspirations of working in non-government organization, worked alongside Annabel, the leader of the Bar Pro Bono Unit, in planning RESIST! Ellice explained to me the difficulty of choosing a theme that wouldn't appear to be trivialising the immigration crises. "We really struggled in the beginning on how to deal with the issues surrounding immigration and approaching those seeking asylum in a sensitive manner. We didn't want to make light of Trump's policies or his deliberately inflammatory comments concerning those of different ethnicities, religions and genders."
Ellice felt that the targeting of Trump had to align with a positive message about refugees (something which has been sorely lacking in our media coverage) and so "we felt it was best to focus on the continuous anti-immigration rhetoric, as at the time, we were reeling from the coverage of Trump's ban on immigration from seven largely Muslim countries. We knew we could raise support, following the protests on campus on Monday [of the same week] and the 'Migrants Welcome Here' protest in February."
She continued: "I felt it was really important to encourage and continue to support the discourse regarding the current status of refugees on campus whilst raising money to support the work of charities that provided aid to 'aliens' within the UK."
I spent some time with Ellice and her flatmates in the week leading up to the event and saw the hard work and effort put into drawing publicity and creating decorations. They cumulatively designed and painted a hundred placards, resist signs and posters which were then hung up around the dance floor and made available to club-goers to photograph with and take home.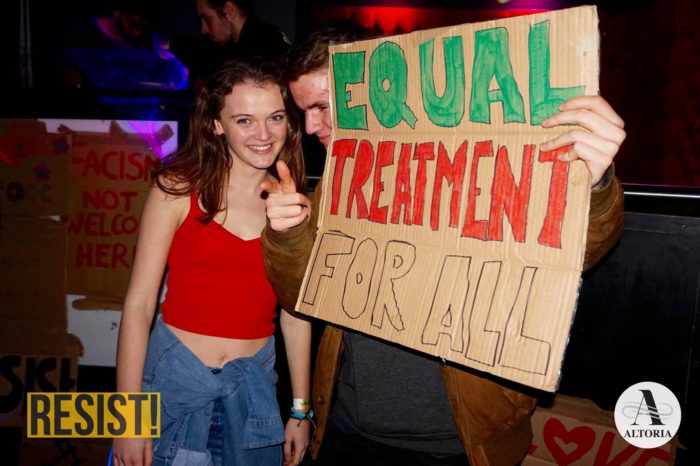 The signs varied in messages; from anger and hostility towards Donald Trump, Theresa May and racists; to more positive messages such as immigrants and refugees being welcome, and the need for equality and peace.
The DJs who lent their musical services were Jeevan Sahota (Brain One), Jake Patel, the DJs from Keep the Faith: Lewis and Joshua, and Discovery Club: Agasty Baylon. Ellice and Annabel are extremely thankful for their involvement and I am also grateful for their selection of disco, funk, and house tracks that elevated the atmosphere to be one of good vibrations.
This isn't the first club event to be motivated by a particular cause in recent weeks. Just two weeks ago there was a sold-out night titled 'YaM presents: Climate Change'. The organisation(s) that benefited from this supposedly altruistic event was Climate Reality Campus Corps (CRCC), who had exec members raising money from buckets.
A source from the CRCC told me that they managed to raise £15 during YaM presents: Climate Change. YaM was generous enough to donate £40 to CRCC for their support during the night.
Just under a month ago, Warwick Anti-Sexism Society's 'feminist, body-positive + queer-friendly' club night, Can't Touch This successfully raised £500 for the Coventry Rape and Sexual Abuse Centre and Coventry Haven who provide support and counselling for victims of sexual assault and domestic violence respectively.
Seeing the success these nights enjoyed, having an altruistic motive as RESIST! and Can't Touch This did, this might become an increasingly alluring option to students and societies wishing to organise club nights in order to raise large sums of money for good causes whilst also providing students an outlet to have fun. A win-win option like this should foster a greater sense of community and togetherness, something which has been hard to come by in the last two years.
Related Posts