22:05: Action at both ends brings the final score to 18-8. Not a victory, but a gallant display by Team Warwick on the ice. Varsity is here, and it's well and truly on. Over and out.
21:49: Sometimes you just have to hold your hands up and praise the enemy. A marvellous team goal, that I can only painfully describe as  featuring 'Sticky-Staka' build up play, is perfectly despatched into the top corner. Not to be outdone, we fired back almost immediately through Meadows' hat-trick goal – it's now 16-7. An altercation's occurring in the crowd, I'm hearing unconfirmed reports of former Sports Officer Alex Roberts' involvement.
21:46: Cov make it 15-6 with an excellent solo effort. A word though for the beaten Allison again, who had just produced a superhuman double save moments prior.
21:43: What a response! We net a well deserved goal through Meadows, and then a fight breaks out, seeing Ryan Jones deck a Cov opponent to cheers. His work done, he slinks off to the sin bin.
21:38: No sooner do I type that, and Coventry go and score, the bastards. The, erm, curse of the clock-watcher.
21:36: Warwick's goalie, number 8 Emma Allison, is having an absolute blinder – keeping everything Cov through at her out. In controversial scenes rink side, our reserve goalie has started a three course dinner, shouting 'Bet in play now!' through a mouthful of lobster thermidor*.
*may not actually be happening.
21:32: The third and final period sees Coventry fans starting a Mexican wave that dies a cruel death upon reaching the Warwick faithful. I've never been prouder to be a Warwick alumnus. Our number four, Smith, is running the show.
21:14: 'How was your day at work dear?' 'Same old, same old *removes green frog costume and starts to wipe off green face paint*' Although coming behind the fully grown adult male dressed as a frog, we did manage to finish comfortably ahead of 'Tusky' in the mascot race.  
21:08: Blur's 645th best song 'Song 2' is being played, that can only mean one thing…a Warwick goal! 13-5, and cricket score averted as the second period comes to a dramatic close.
21:02: The day the music died has resumed its usual course. Two in the space of about twenty seconds for Cov. In happier news, a girl called Caley has found her shoe. Congratulations, Caley.  
20: 58: The Coventry fans are back doing the Viking Clap, which if done by someone from anywhere other than Iceland falls firmly under the banner of cringe – but they're silenced! A hat-trick for Ryan Jones, my hero, my mate. 3 goals unanswered for us, the stuff of dreams.
20:51: A scuffle sees a Coventry man in the sin bin, and not happy about it. He gees up the fans behind him in protest. Then ecstasy! We have a second, a one-on-one dispatched coolly by Jones. The press box, and the crowd below, go wild – we don't care if it's a consolation. Then a third, another for Jones! This is liquid ice hockey, and I've had to re-write this update four times! A bit of pride restored by our heroes in blue.
20:48: Sorry about the delay, technical difficulties I'm afraid. Coventry's no.18, the aforementioned 'Ross', is bloody good at ice hockey. A dazzling solo run sets up a person whose name the announcer doesn't even try to pronounce for a tap in. Warwick's ultras in attendance respond by chanting 'The wheels on your house go round and round', which of course the Boar Sport would like to distance themselves from. Soon it's 11-1, this isn't going well.
20:37: Warwick start the second period with good territory, and the puck just flies past the Cov post from a tight angle. It doesn't take long for the latter to counter ruthlessly though, Stanley Parker making it 9-1.  
20:31: Due to an absent bear, the race has been delayed until after the next period, and the boring humans are back onto the ice. There's a sentence I never thought I'd write.
20:20: Next up it's the mascot race. Warwick have a Bear, Coventry have an Elephant. There's also a frog, who is presumably a representative of the alt-right.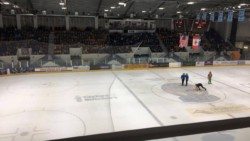 20:15: In the battle of the Varsity Sports Officers, Ted Crowson had an opportunity to achieve some redemption. Yeah…
20:10: Wild rumours start circulating round the press box that Leicester have sacked Premier League winner and ideal Grandad Claudio Ranieri. I wonder if he fancies taking over a group of unfancied (kind of) local players, to take them to an impossible achievement…
20:06: This is a wonderful sport – brutal and beautiful. You have to doff your proverbial cap to Cov's attacking players, who slalom with such guile and precision. They make it 8-1, as the first period comes to an end.
20:01: Comeback on! Jack Meadows opens the scoring for us. The goal may have been scrappy, but as a moment it was glorious. 'Let's go Warwick let's go!' is chanted, and suddenly we're thinking, 'Surely…surely not?' #MiracleOnIceAndAllThatJazz 
20:00: As the clock strikes eight, the scoreboard clicks over to 7-0. It's really too easy for the home side. I used to quite like the Fratelli's song 'Chelsea Dagger', but as it's being played every time we concede it's striking more like a dagger in my heart. The Cov fans are doing that Iceland chant – at least I think so, it's hard to tell with them.
19:56: In the 6 minutes since I last updated, somehow Coventry have banged three in, and it's now 6-0. You'd think their lead would mean Cov would play fairly, but sadly not. 'Piece of shit', concludes one of my esteemed colleagues. Moral victory, etc etc.
19:50: 'It's like watching Arsenal, they're trying to walk the ball in!' So shouts my Editor James – the sort of considered opinion you-definitely-won't-get-down-the-pub that gets you to that senior position, I suppose. It does beg the terrifying question of what Warwick Fan TV would resemble. Perhaps a heavily tattooed DJ P.O.P and his friend Rootz calling out Stuart Croft in an [epic rant], fam.
19:45: No sooner do I send that post, then that Ross chap makes it a hat-trick, 3-0 without reply. The Warwick fans are starting to get a tad restless. We're above them literally here in the press box, and Coventry, just, generally.
19:40: After a nightmare start, Warwick recovered, keeping possession of the puck well. Unfortunately, an orchestra that sounded suspiciously like the god-awful England band started playing, and Cov immediately made it 2-0, through somebody called Ross. Presumably our lads thought we were on a break. 
19:30: I've never been to a Varsity event before, or indeed watched Ice Hockey. Much like Rootes in Freshers, virginities are being lost all over the shop. After the worst national anthem in the world blears over the rink speakers we're off and running. It takes Coventry, in white so the blood does show, seconds to take the lead. Sad!
19:27: Let's not forget that Warwick are fuelled by extra motivation tonight. Last year's defeat on ice, best described as painful, served as a statement of intent for our rivals' most successful Varsity campaign so far. They still lost overall, of course. A repeat result tonight would draw the Varsity 2017 standings level at 7-7. A Warwick win would provide a nice cushion going into the busy weekend. With kick-off approaching, I'm going to hand over to Alex Jennings to provide as comprehensive coverage as possible (we're using our phones here so bare with)
19:21: The big dog is in the house…Nat Panda has been spotted. Yes, mr Postgrad was noted hurrying to his seat as we await kick off. Rumour is he was late due to plotting his manifesto for his 13th campaign as PG officer.
19:14: This is the view from our rather swanky press box with t-minus 15 minutes until we puck off (lol).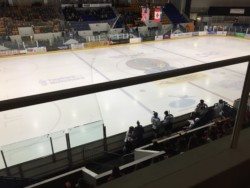 19:07: Wimbledon. The Maracana. Lords. Planet Ice. All great sporting venues, all stadia fit for sporting greatness. Tonight dreams will be crushed and heroes created. It's here people. Varsity 2017 is go.
Related Posts