Winner of seven Golden Globes including Best Motion Picture, Best Actor and Best Actress for Comedy or Musical, nominated in eleven categories at the BAFTAs… La La Land ­keeps setting records and is currently big favourite for the Oscars.  When I came to watch it Sunday at the Arts Centre, I was far from expecting that the movie would be sold out. It was the first time I had ever seen the cinema full, proof of the interest and the curiosity provoked by dithyrambic critics worldwide. Taking place in Los Angeles, La La Land tells the story of two artists that struggle to pursue their dreams in the "City of Stars."
Whatever happens the movie keeps its poetic atmosphere.
Damien Chazelle is a young prodigy of the cinema. At only 32, La La Land is his second movie after Whiplash, which was awarded with three Oscars. From Whiplash, Damien Chazelle keeps the passion for jazz music, this time personified in the character of Sebastian, a pianist eager to save jazz. At his side, Mia, an aspiring actress from Boulder City, Nevada — it is amusing to notice that this town is close to Las Vegas, another "city of dreams." They both develop in a Los Angeles similar to Hollywood at its Golden Age in the fifties. This background is important. It reflects the questions underlining this movie: how much you have to accomplish to pursue your dreams, and how much it costs you. La La Land is a movie for dreamers. Here confronted to the reality, they sometimes have to make compromises. But whatever happens the movie keeps its poetic atmosphere, reinforced by Chazelle's use of light, sometimes joyful, sometimes melancholic. No tragedy in La La Land, just life that goes on, with its ups and downs.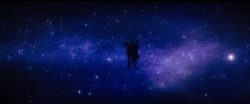 Chazelle takes all the codes of the old musicals and modernizes them. He plays with them, and from time to time gives a significant nod to illustrious scenes in musical comedies. Singin' in the rain, An American in Paris, The Umbrellas of Cherbourg, …  without forgetting the dance in the Planetarium that evokes the dance in the dark of Fred Astaire and Cyd Charisse in The Band Wagon. However, Chazelle does not offer a replicate of these fifties musicals, but offers his own version: a modern musical with ordinary people. Sebastian and Mia are not professional singers, nor tap-dancing gods; they are persons just like you and I. The dances are technically simple, the expression prioritizing the technical difficulties. Ryan Gosling and Emma Stone give a stunning performance, singing, dancing and playing rightfully. For their role, they had to prepare for months. Gosling learnt how to play piano — it is always him that plays in the movie, they never used an understudy. Stone on her side insisted to perform two songs live to give a supplementary dimension to her performance. The realism of their acting easily transports us in to the mischievous universe of Sebastian and Mia.
Even if you don't think it is a masterpiece, you won't be able to help but enjoy yourself
It is definitely worth watching La La Land ­­­— and easy, it is screened at the Arts Centre until the end of this week. Cinematographically, it is a very good movie, and even if you don't think it is a masterpiece, you won't be able to help but enjoy yourself.
La La Land is playing in the Arts Centre up until 2nd February. 
---
---
Country: USA
Director: Damien Chazelle
Run Time: 2hrs 8mins
Related Posts