The Alps elicit images of powder covered fir trees, snowy mountain peaks, strapping on skiis and making your way down the mountain to be greeted with a bit of Après Ski (translated as 'after ski' and therefore basically meaning alcohol). Or at least this is what I have gathered after poring over all the pictures of ski tour on my Facebook feed over the past two years.
When I got the opportunity to visit the Alps this summer with my extended family, I obviously jumped at the chance. When friends asked where I would be spending my summer holiday, and I responded with "Morzine, a little French town in the Alps"; the general response was "Will you be skiing?". Though it is possible to ski in summer in some areas of the Alps, Morzine averages 21 degrees celsius in July. However, I do understand the confusion, and would like to help dispel the myth that the only reason to go Alpine is for winter sports and cheap beers. Though not a typical summer destination, it was one of my most memorable and enjoyable experiences. Without further ado, here are 5 reasons you should consider the Alps as an alternative summer destination.
1 – An obvious one to start with; Hiking. Though this may not appeal to all, I am one of those rare breeds who actually enjoys sweating all my sun cream off (am I creating an attractive image of this yet?) hiking up a mountain. However much you detest physical exercise, I implore you to try it. Our chalet was a few minutes' drive from Mont Chery, so we drove to a carpark part way up, and hiked up for around 45 minutes. It was steep, so the intensity made it challenging from the offset – but short enough to power through, and before long we were greeted with stunning panoramic views of the surrounding mountains (including Mont Blanc – the highest peak in Europe at 4,809m). Far more rewarding than the hike up Gibbet Hill to your 9am.

2 – Mountain Biking – we were lucky to be staying close to the route of the Tour De France. We chose a spot on a hairpin bend of the mountain (rather than in the town itself where views would be restricted by the crowds) and watched the cycling greats whizz past. I got a pretty good view of Chris Froome, and witnessed a lot of toned men in lycra. Though the cycling climbs up the mountain are reserved for the well-practised, a popular summer past time in Morzine is to hire a bike and take it up the mountain on the chair lifts, before hurtling down the blue and red runs (I advise you leave the black runs to the professionals!). Though I didn't actually try this myself, a few of my family members did and the whole of Morzine is abuzz with cyclists in mountain-spattered gear and full-head helmets, their mud-caked mountain bikes in tow. A good way to experience that adrenaline rush down the mountain without snow or the hard slog of cycling up.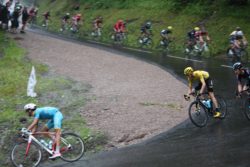 3 – Paragliding – though expensive, this was a once in a lifetime experience that I couldn't pass up. I justified it to myself by the fact that I survived 10 days abroad with just hand luggage after refusing to pay the extortionate checked baggage price (not appreciated, BA), which more than covered for my paragliding experience (so basically free, right?). One for the adrenaline junkies with a lack of vertigo. You will be driven round the hairpin bends up a mountain, strapped on to a stranger and literally told to run off a mountain. Despite how kamikaze this may sound, it was actually an extraordinarily peaceful experience. Time slows down as you drift above the fir trees, gently floating from side to side with spectacular views of the world below, including Mont Blanc in my case. It was an unforgettable experience which was well worth cramming all my belongings into a 56 x 45 cm suitcase.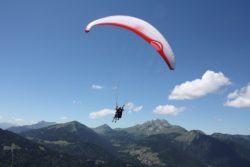 4 – Explore the towns – The town of Morzine (as I expect is similar to many towns in the valleys of the Alps) had a sporty vibe with reduced ski jackets and rental bikes on every corner. Enjoy a crepe or a pint and take time to explore these unique towns before the hoards of skiiers arrive in winter. Morzine had a 'dry luge', basically a slide for adults, where you could speed down the luge course on a sledge. From the towns, you can also pay to get chairlifts to the tops of the mountains for a few Euros (perhaps one for those who skipped the whole of point 1).
5 – Discover Hidden Gems – during our stay we discovered a bar called 'Le Exclusif' hidden atop the mountain. It was not one you would stumble across by chance. Its location at the top of a long, narrow, cobbled track meant you had to meet the owner in a nearby carpark to be taken there by horse and carriage. Yes, horse and carriage. I felt like a princess from the 1800's for all of 5 minutes and it was wonderful. After following the stepping stones to their decking area, we were greeted with yet more breathtaking panoramic views. A sight that never ceased to amaze, it was like chocolate for the eyes. The bar was a serene haven half way up a mountain, and its secluded spot meant it was peaceful and uncrowded. Your average drink was obviously a little more than a pint at the Jug and Jester, but one cocktail sipped slowly was pennies in exchange for the experience they provided. Don't be afraid to venture off the beaten track! (cue Robert Frost Poem…)
So there you have it; who even needs snow or skis in the Alps? There's plenty to do in Summer and prices will be offpeak, the bars significantly emptier, and you might even be able to sneak in some sunbathing on the side of a mountain. Pure bliss.
All Images: Isobel Farquharson
Related Posts