Already heralded as the new heroes of the Mancunian rock scene, Blossoms have been passed the highly decorated (and admittedly highly drug-laced) mantle previously held by the likes of Oasis and The Stone Roses. This notion is riddled with inaccuracies, though: Blossoms are proudly neither Mancunian nor a rock band. With Joe Donovan sporting an "I <3 Stockport" t shirt, it is a vital detail that they originate 6 miles from Manchester. It would also be foolish to liken them to these artists, asides from their regionality. They acknowledge the pressure to follow in the footsteps of the bands who inspired them, but are not willing to imitate them. Blossoms manage to put their own spin on things, but with these "elements of euphoria" still maintained.
Tom Ogden, lead vocalist and guitarist, openly declares them to be a pop band, proudly squashing any cockroach-like stigma that might come with outing yourself as one.  Others should take note: Mr Healy of The 1975 and Daniel Smith of Bastille, own up… This possibly explains the band's choice of music as I entered their dressing room backstage at Zephyr Lounge in Leamington Spa: it's not The Smiths or The Courteeners preparing the band for the gig – it's Beyonce and Jay Z's 'Drunk In Love', and there's no effort to hide this. They're not pretentious in their musical influences with inspirations ranging from ABBA to the Grand Theft Auto Vice City soundtrack. Lead guitarist Josh Dewhurst takes the opportunity to prove his true status as a true ABBA fan, announcing their traditional Swedish folk background as if it were common knowledge. However, when recalling his favourite ABBA songs, he could only manage to recollect "the one about money or someone's mama".  Bassist Charlie Salt outdoes Dewhurst, crediting the film Kevin and Perry Go Large and its dance, techno and trance sound for his "hypnotic basslines". This interesting and slightly obscure music taste is surprisingly reflective in their simultaneously retro yet very current sound.
Blossoms acknowledge the pressure to follow in the footsteps of the bands who inspired them, but are not willing to imitate
While the band are delighted with the sold out Zephyr Lounge gig, and do an impressive job rocking it, it's obvious that the sell-out, 2,000 capacity gig at Manchester Albert Hall later in the month cannot come soon enough. A homecoming gig of that magnitude is a salivating prospect for a band yet to release an album. The band recently supported The Libertines at the Manchester Arena and they reveal they 'felt most comfortable' on the 20,000 capacity stage, rubbing noses with Pete Doherty. Blossoms clearly have their sights set on bigger things and, more specifically, bigger stages. This quiet confidence is refreshing and gives them a competitive edge; Ogden states that they "feel like they deserve it and the songs are good enough", and their live performance brimming with swagger and self-assurance. They have been recognised by placing fourth in the BBC Sound of 2016, after all.
Their quiet confidence is refreshing; the live performance is brimming with swagger and self-assurance
The unassuming Myles Kellock sits in the corner behind a curtain of blond hair plugged into an Apple Mac as if recharging himself. His only contribution is when talking about a laptop lost in a Manchester taxi after their Libertines support slot: "completely f*cking gone", accompanied by a cutthroat gesture. Despite being a man of few words, it is, in fact, the mute keyboard player that makes the band's sound truly outstanding. His significant contribution of 80s synth and hints of psychedelia add to the already exceptional combination of Ogden's impressively mature vocals and towering Joey Ramone-like presence, Dewhursts's powerful guitar solos, and the "hypnotic basslines" of Salt – all held together by Donovan barely breaking a sweat on drums. This fusion of dance, synth, rock and indie proves they really are more than a pop band, and shows why Blossoms won't fade into the endless abyss of British indie-pop bands.
'Charlemagne' serves as a metaphor for placing someone on a pedestal, and is cited as a "turning point for their sound"
Blossoms' big hit and the highlight of the night is undoubtedly 'Charlemagne'. An instant indie classic, it encapsulates all the individual talents of the band into three perfect minutes. The name was introduced to Ogden by his historian brother: Charlemagne, AKA Charles the Great, King of the Franks united much of Western Europe in the early Middle Ages. The elaborate, yet fitting, title serves as a metaphor for placing someone on a pedestal, and the song is cited as a "turning point for their sound", with the debut album reflecting that. Other notable mentions are 'Blown Rose', which has obvious Smiths and Suede influences, 'At Most A Kiss', which demonstrates Kellock's importance in producing head-nodding, toe-tapping beats, and set-closer 'Blow', just another example of their contagious melodies.
Blossoms have a big summer ahead of them, relentlessly touring festivals as far as Japan. More importantly, the release of their highly anticipated debut album – projected by Ogden to be sometime in the summer. As teasingly far away as this seems, the band were clearly feeling very positive about it, promising that it sounded "really good" and even "exceeded their expectations". Ogden proclaims that it is "best thing they could produce" and recognises The Coral's James Skelly, who produced it, for bringing the best out of the band. Donovan summarises the band's sentiments towards their forthcoming album perfectly, like "the feeling of doing your homework the night before". For someone who knows this feeling all too well, they evidently have reason to be quietly confident.
Ogden proclaims that their highly anticipated debut album is "the best thing they could produce"
On my exit, 'Drunk In Love' is resumed, and the band returned to frivolities before effortlessly owning the Zephyr Lounge stage. It is unquestionable that this was a unique opportunity to catch a band destined for greatness in such intimate surroundings. Expect to see Blossoms playing much larger venues in the near future; I'll be catching them again at Kasbah on March 4th.
---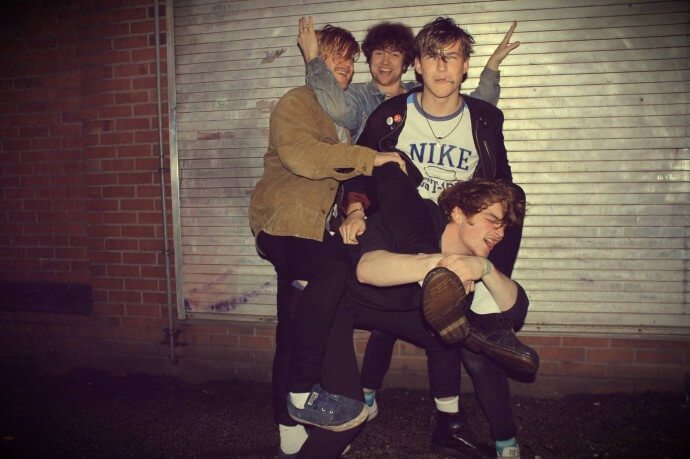 About half way through interviewing Blossoms, the room starts rocking as the sound of the opening band reverberates around the dressing room. I manage to catch the second half of this exciting set by an upcoming indie-pop band called Viola Beach. They play tightly and energetically, reflecting the enthusiasm of a group fresh to the world of touring; the desire of a band hungry to make it big and the confidence to do so. This is most evident during their final song, 'Swings and Waterslides', as Frontman Kris Leonard tosses the microphone stand onto the floor of the crowd and falling to his back shredding his guitar from the ground. It's the sight of aspiring rock stars living their dreams.
On Sunday 14th February news emerged of a fatal car crash in Sweden involving Viola Beach members Kris Leonard, River Reeves, Tomas Lowe, Jack Dakin and their manager Craig Tarry. The horrific details of this incident are not worth focusing on. What is worth acknowledging is the reaction of the music world, rallying to support and honour this band. The aforementioned 'Swings and Waterslides has shot from 60,000 YouTube views to well over a million. It has also reached number two in the iTunes chart (at the time of writing, three days after the news of their deaths), following a campaign to get the song to number one. The campaign's success isn't out of sympathy, however; it is the genuine appreciation of a talented band on the cusp of big things. What a tragic way for millions of new fans to discover and adore a young, promising band called Viola Beach.