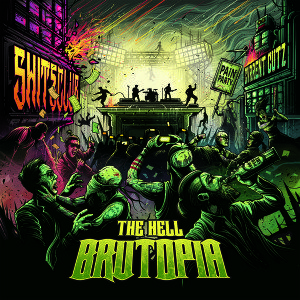 'Another Year, Another Album' could, and should, probably be the motto of Watford-based satirical metal/hardcore band, THE HELL – their new album is their third since 2013. However, Brutopia might just be their most ambitious effort yet, as vocalist Nail$ and co. have significantly widened their satirical scope, lyrically and musically. Incorporating elements of 80s hair metal, they've turned their attention away from satirising heavy metal for the most part.
Nevertheless, ambition doesn't always equate to quality, and that's certainly the case in part here. Take the prime example of this, 'Shite Club', a rather uninspired attack on club culture. It's reminiscent more of the elitism so prevalent in the metal scene, than of the jokingly self-aggrandising, tough guy lyricism which made sophomore album Groovehammer so compelling. Granted, club culture isn't for everyone, but 'Shite Club' fails to bring any fresh insight to the discussion. In fact, it feels like something that you wouldn't expect from a band like THE HELL, pandering to the elitist, heavy metal meatheads they exist to satirise.
Another area where THE HELL's ambitions can sometimes fall flat are the various skits. Individually, they're hilarious; 'DH1 Classic Albums' is perhaps the best satirical piece of the year. Five skits on a 13 track album (albeit with some contained within songs) is too many though, and detracts from both the comedy of each skit, and somewhat spoils the album overall.
"I'm on that Waitrose shit" might just be the funniest lyric of the year
Despite these flaws, Brutopia still contains several fantastic tracks, particularly initial singles 'Sick' and 'I've Got Loads of Money'. Both tracks bring something new to THE HELL's sound as compared to their previous releases; 'Sick' features quite possibly the only good hair metal screams ever recorded and 'I've Got Loads of Money' incorporates a brilliant rap feature and the line "I'm on that Waitrose shit" – which might just be the funniest lyric of the year. There are other standout lyrics, such as "Why are you so fucking worried about people taking your job, when you're already a full time fucking idiot?" from 'We're All The Same'. The provocatively titled 'F**k You All', also provides a contrast to previous records with a vocal style reminiscent of Frank Turner in Möngöl Hörde working surprisingly well.
Brutopia suffers and benefits in equal amounts from the wider ambitions behind its release. The increased musical diversity of the record leads to some of THE HELL'S best tracks of their career, and the incorporation of different influences makes this record their most musically compelling effort yet. However, the oversaturation of skits makes for a disjointed listen, and the inclusion of bland satires such as 'Shite Club' prevent it from being the great album it most certainly could have been.
Related Posts