[dropcap]W[/dropcap]ho is your favourite author?
As an English literature student, that is a difficult question to answer. I am often tempted to answer Jane Austen or Charles Dickens, or another famous writer of classics. Whenever I tell the truth – that it is someone best known for children's books – people seem surprised.
Why would I choose Charlie and the Chocolate Factory over Pride and Prejudice, The Twits instead of Great Expectations? Because children are more difficult to impress than adults. For a child, books are more easily closed and tossed aside. The books I was never able to put aside as a child have some qualities in common which have solidified their places as my favourites.
Children are more difficult to impress than adults…
According to Roald Dahl, "a keen sense of humour" is important when writing for children. I cannot help but agree when considering m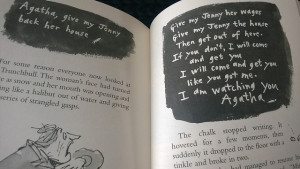 y childhood favourites. Matilda's pranks on her family in Roald Dahl's eponymous novel actually made me laugh out loud.
Equally humorous was the Horrible Histories series by Terry Deary, which not only made me laugh but also taught me a thing or two.
I also loved Judy Blume's Double Fudge which features Fudge, a five-year-old who has recently discovered money. I found Fudge's antics – including making his own currency and dressing as a miser for Halloween – hilarious. These were the books that, in making me laugh, made me love reading more.
Another author I read avidly as a child was Jacqueline Wilson. Looking back, it is obvious that many of her books have recurring themes. However, her characters and stories are so diverse that each book offers a new world to explore. Moreover, Wilson's writing is engaging; I finished some of her books in a matter of hours. She manages to deal with serious topics without seeming patronising.
Her characters and stories are so diverse that each book offers a new world to explore.
Like Wilson's books, Michelle Magorian's novel Goodnight Mister Tom kept me reading through beautifully crafted characters. Similarly, the characters in Hergé's The Adventures of Tintin were so likeable that I could not help but eagerly follow their adventures – I almost adapted "thundering typhoons" as a catchphrase!
These books are diverse, but are united by their ability to grab and hold the reader's attention. Whether this is through humour or compelling characters, these are titles I could return to countless times. Though intended for a younger demographic I hope, if Austen or Dickens ever tire you out, that you give these books a chance.
---
Image Credits: Header (Flickr/Wolfgang Lonien), Image 1 (Flickr/Anastasia Alén)
Related Posts