The Students' Union is holding this year's Autumn Elections until 9pm tonight, Thursday 22 October. Students can elect part-time officers and SU Exec members, who will support the Sabbatical Officers throughout the coming academic year.
These elections will for the first time determine exec members for most topic areas, instead of Student Council representatives. This is part of a re-structured SU administration. The new SU Execs are established for Democracy, Funding, Education, Welfare, Societies and Sports.
Olly Rice, Democracy and Development Officer of Warwick's Students' Union, argues that the reform was necessary due to an inefficient Student Council; this led to a frustration of actually passionate students and consequently a lack of engagement.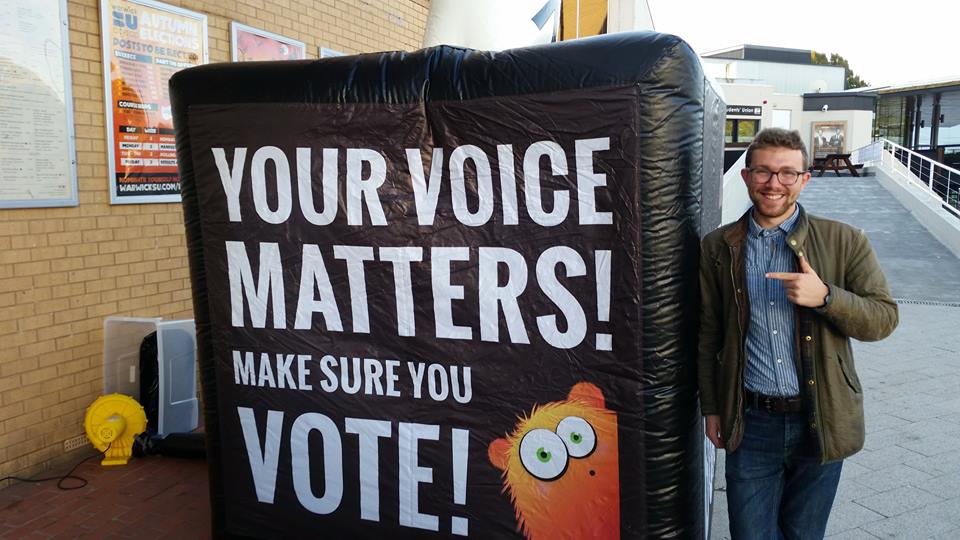 Olly Rice, hopes the new execs will inject some 'dynamism' into the SU Photo: Warwick SU
He highlights that the new execs, as the key innovation of a more centralised organizational structure, are designed to be relevant and effective – he expects them to "inject some dynamism" to the SU.
To maintain a representation of the wider student body and especially of smaller student groups, e.g. postgrads and internationals, a Student Assembly of changing composition was set up. It will discuss wider issues and is the main arena of students' democratic input.
Olly Rice puts emphasis on the fact that a streamlined, action-focused bureaucracy does not impede democratic principles: The execs enable the elected representatives "to act on their ideas and concerns" better than before. Through a dedicated platform for information and resources, the new set-up will be more accessible and accountable.
The Boar has taken a look at the manifestos of the first generation of SU exec members. We highlight the core trends for each exec, and some outstanding ideas.
Democracy
For the democracy exec, the main objectives refer to a stronger involvement of students and better SU transparency. Also, many candidates see their responsibility beyond immediate campus affairs, aiming to improve the voter registration among Warwick students.
Aiming to set up a "kick-ass campaign", one candidate presents a concept for improved voter registration. Wheras another proposes a wider impact of student democracy, and proposes a democratisation of drinks deals in SU outlets. Moreover, one suggests the idea of a democratic night out in the Copper Rooms, with a theme chosen by students.
Funding
The core objectives of the candidates for the funding exec relate to a better transparency and a fairer allocation of funds among societies and clubs.
One candidate wants to make greater funding accessible to students' organisations through crowd-funding.
Another candidate, pushed their claims of transparency by publishing personal phone and on-campus room number in their manifesto.
Education
Meanwhile, ideas for the coming year's agenda on education include better and more accessible study spaces, e.g. a 24/7 library, recorded lectures, better feedback, digital core texts, and a freezing or abolition of tuition fees. Considering the candidates' ideas, this is likely to become an innovative exec.
One candidate interprets the topic of education in a practical way, aiming to get more help for Freshers learning to cook.
Whilst another idea was for more microwaves around campus to be installed. Other suggestions included more use of lecture recording.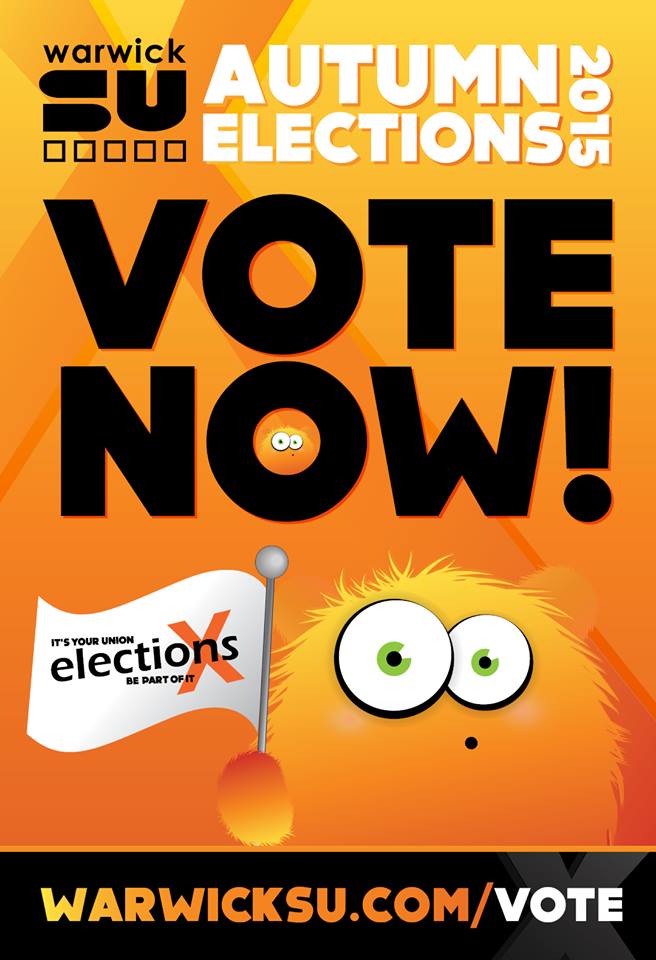 Students can vote until 9pm tonight (Thursday 22 October) Photo: Warwick SU
Welfare
Regarding the welfare exec, most manifestos mention mental health, and all candidates include wellbeing with varying emphases, such as focusing on campus safety, sexual consent, financial problems, housing and the inclusion of minorities.
One idea aims to improve students' housing conditions by co-operating with external letting agents, whilst another idea was to introduce more gender neutral toilets on campus.
Societies
The candidates for the societies exec focus especially on an improvement of outreach and funding opportunities. Also, many put forward the objective of a stronger co-operation among societies.
One candidate suggested the idea of better transparency, especially about how the Societies Federation fee is used.
Another idea was to provide better training to societies' leadership, so they can organise events more successfully and effectively. Meanwhile another candidate suggested that cuts in regulation were necessary.
One proposal included plans to dedicate Friday night to societies, featuring offers for society members.
Sports
The two candidates for Sports Exec chair approach the role rather differently. Thomas Farrar simply aims for an efficient workflow on the exec.
Meanwhile, Cecilia Rose Jastrzembska focuses more strongly on structural innovations; her ideas are to attract talented school leavers specifically with Warwick's sports reputation, following the American model.
Also, she wants to improve funding and the recognition of female students' achievements.
Olly Rice, Democracy and Development Officer, says that the new structure had a positive impact already in motivating students who would not have considered a candidature for the old Student Council to stand in the current elections. Although it is to be seen if the structural reform of SU bureaucracy will inject the anticipated dynamism, the policy objectives of many candidates raises expectations for the coming year.
You can vote until 9pm today by visiting the SU website. You can view all the candidate manifestos and see who is running.