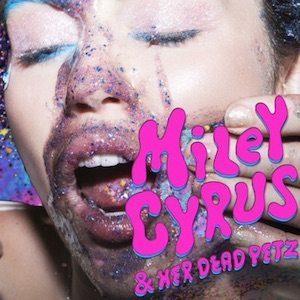 Miley Cyrus continues to defy even her toughest critics with the most confessional and experimental record of her career. On 30th August 2015, Cyrus hosted one of the biggest musical events of the year, the MTV Video Music Awards; a show that saw her just years ago flock to the stage with midget dancers donning teddy bear heads, a foam finger, and everyone's favourite creep Robin Thicke. This incredibly controversial performance did exactly what it was supposed to: it established Miley as one of the big pop girls with sexually provocative performances and huge productions. Nonetheless, while hosting this year, Cyrus closed the show with the announcement that her long awaited and much discussed fifth studio album Miley Cyrus & Her Dead Petz was available to stream for free. Over the last few months she was reported to have been in the studio with electronic rock band The Flaming Lips and former collaborator Mike Will Made It, but no one expected that what would come out of these self-financed studio sessions would be 23 truthful tracks formulating Cyrus's most interesting record yet.
The simplicity of the track works wonders with Miley's heartfelt lyrics regarding her beloved and deceased pet dog
Upon my first listen, I was blown away by the DIY sounds of the opening number 'Dooo It!' proclaiming Cyrus's love of pot and peace – most definitely not a radio-friendly track. The earthy electronic beeps and taps are reminiscent of M.I.A., whilst the sample-esque vocal segments and drums are similar to the style of Alt-J, who only last year sampled Cyrus on their sophomore record. Unexpectedly, this is the album's loudest point: what comes next are honest, airy and occasionally dreary acoustic electronic numbers. 'The Floyd Song (Sunrise)' is a beautifully euphoric example with distressed echoing vocals, sizzling synths, and a modest kick drum exposing huge vulnerability. The simplicity of the track works wonders with Miley's heartfelt lyrics regarding her beloved and deceased pet dog: "I don't want to live without my flower" is heart wrenching and makes the track a highlight of her career.
Miley's vocals have also never sounded better and this is by playing to her strength of down-tempos, which are at the forefront of this album. The Mike Will Made It-produced 'Fweaky' reiterates this and confirms that Cyrus really does have one of the most unique and recognisable voices in music. The ballad is a steady progression from those on her previous effort, Bangerz, and its minimalist production acts as a refreshing change from her previously over polished sound. Likewise, the dramatic Lana Del Rey-sounding 'Cyrus Skies' is a hallucinogenic-infused grower with a wavy bass, and exaggerates how this record allows Cyrus to openly express her views of the world. This is obvious on the genius '1 Sun': a commercial-sounding pop song that presents the issue of global warming over a series of electronic claps.
Miley's vocals have also never sounded better
Despite the obvious changes in sound, in true Miley style, emotive and serious numbers are placed alongside 'ratchet' danceable tracks. While the interlude 'Fucking Fucked Up' is an unnecessary low-point, album highlight 'BB Talk' is a refreshingly outspoken and laid back 90s influenced hip-hop jam. Cyrus reflects on her past relationship (in particular the teeth and body hair of her former lover) and proclaims "F**k me so you stop baby talking". Yes, really. Additionally, 'Bang My Box' is a typical Cyrus sex jam in all its glory, but this time with a funky Metronomy-esque bassline and 80s soul vocals. This 80s sound also extends to the euphoric and synth beeping 'Lighter' that does not sound too dissimilar from British singer Shura, and showcases just how much potential Cyrus has when she takes full creative control of her music.
However, the main flaw of this collection is that, unlike Bangerz, this collection is far less consistent, clearly due to the vast number of tracks. Therefore, upon listening, it is important to consider how the album is an experiment of sound and genre, principally when tracks like 'Milky Milky Milk', 'Slab of Butter' and 'I'm So Drunk' delve into the sounds of Daft Punk-esque synths alongside the bass lines alike to psychedelic artists Youth Lagoon, MGMT and Yeasayer and manipulated vocals of Grimes. It is thus unsurprising that such a record was not released conventionally or even by Cyrus' label. The album also has some surprising collaborations, notably on 'Slab of Butter (Scorpion)', featuring Sarah Barthel of Phantogram. Cyrus' sensation of psychedelic sounds and vocalisation of the unsurprising statement, "self control is not something I'm working on" is truly marvellous. Equally, the eccentric (and depressing) sounding 'Tiger Dreams', featuring Ariel Pink, is a dazzling presentation of the vivid imagination of Cyrus, especially when under the influence.
In true Miley style, emotive and serious numbers are placed alongside 'ratchet' danceable tracks
The record progressively becomes more dramatic towards its close, specifically on the stunning 'Miley Tibetan Bowlzzz', which echoes a score from a Junkie XL movie full of tragedy and reverberating hums. Concluding track, 'Twinkle Song', is truly a triumph, conveying passionate, roaring vocals over a soft piano, questioning "What does it mean?", regarding the dreams and thoughts following a separation of love. While this review does not seek to answer such questions, the answer in relation to this record is that Cyrus has really pushed the boundaries musically. It is the first that sees Cyrus embrace her true self and talent, allowing her to play to her strengths and express her thoughts, acting outside the boundaries of record labels and radio stations. Though self-indulgent in parts, this record is one that will remain an outstanding career highlight and even a game changer in Cyrus's musical catalogue.
Related Posts