Facebook – https://www.facebook.com/pages/Warwick-Warriors-Dodgeball-Team/134985499891624?fref=ts
Twitter – @WarwickDodge
"Rule 1: If it's funny – do it"

"Rule 2: If it's not funny – make it funny"

Advice for incoming freshers
Dodgeball is (surprisingly to some!) one of the largest mixed social clubs on campus. Whether you intend on playing the sport or just like the look of one of our many socials, you will always be more than welcome! Our taster sessions are on Friday for Weeks 1 and 2 and this is an excellent chance to meet our existing members and the exec that will be leading the club, as well as finding out when our first socials will be. Don't worry if you've never played before; nearly all of our freshers are new to the sport and it's very easy to pick up – there's even a chance you might be selected to represent us at the Fresher's Championship near the end of term 1! As a club we circle hard and have some of the best socials on and off campus so even if you (inexplicably) don't see the appeal in the sport itself, feel free to join our facebook group and come along to a social anyway!
Targets for next season
After a fantastic 2014/15 season, newly promoted in to the Women's Premier League, 3rd at Nationals and South England Champions, the Women hope to build on their spectacular premier league performance, retain their south England title and hopefully take home the Uni Champs gold this year! Our Men's 1st team major aim is to be promoted back to the Dodgeball Premier League and to retain our University Championship title, cementing our place as the best university dodgeball team in the country. Above all of this our main aim to have the biggest intake of freshers ever, never lose a boat race and have pints and pints of fun!
Training times and locations
Tuesdays – 1pm – 3pm – Main Hall
Thursdays – 1.30pm – 3.30pm – Desso Hall
Friday (fun session) – 5pm- 6pm – Westwood Games Hall

Club President
Oli Hague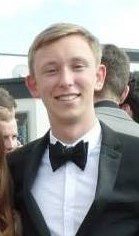 Number of members
130
---
Teams and Competitions
Number of teams
We currently have 3 teams competing in various dodgeball leagues; a Men's first and second team and a Women's team. You don't have to be in one of these teams to have the chance to play competitively though; we often enter multiple teams in non-league tournaments and we'll also be entering a mixed team into a league this year. All of this along with Fresher Champs and Varsity (against Birmingham) means that all that want to play will certainly have opportunity to!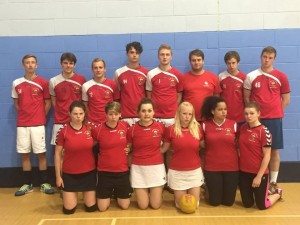 Team Captain
James Cameron – Men's team captain
Thandi Ngoma – Women's team captain
---
Social
Biggest club social
TOUR!!! There aren't a great deal of details we can give about tour that are fit for public consumption…and even fewer photos…but what we can say is that we guarantee it'll be the best week of your life (well until next year!). Last year 40 of us descended on Prague, sampled a great deal of the low-cost local alcoholic beverages, hired some pedalos, visited a park, a zoo in ludicrous costumes, and of course a multitude of clubs. Where we are going this year will be a mystery to all but the exec until a week before departure but we can confirm it will be somewhere cheap and boozy! Last year (after crashing the website) signup was full after only 10 minutes so my one piece of advice would be to get in there quickly!
As well as tour, we have a few standout socials that are incredibly even bigger than our normal weekly circles and pub crawls; highlights include campus challenge, segregated social, adoptions and 24 hour social – I leave you to figure out what they may entail…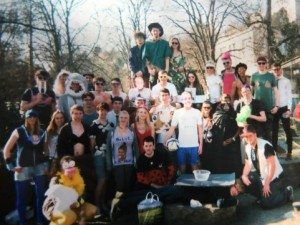 ---
Charity
Over the last year we have completed two separate Reaper Race mud runs as a club and hosted a pub quiz to raise money to help those suffering from the Nepal Earthquake.