[dropcap]K[/dropcap]aren Joy Fowler's novel, We Are All Completely Beside Ourselves, has a bright yellow cover. I know you're not supposed to judge a book by its cover, but bright yellow is hard to ignore. The day I picked it up with the aim of avoiding my essays and revision, my housemate serendipitously did the same, and the next day a woman in same carriage as me on the Tube was reading it too. The world seems to be reading this yellow book. The main question I had was whether it was because it was yellow. The fact that it was shortlisted for the Man Booker prize and has been critically acclaimed probably has something to do with it though.
 Narrated by Rosemary Cooke, it is, at its core, a story about family and what it means to be human.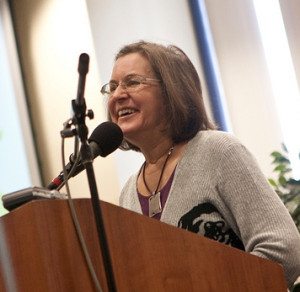 This could just be another run-of-the-mill story about a dysfunctional family and how they manoeuvre through life. It all gets a little more complicated, when (slight plot spoiler), seventy seven pages in, we find out Rose's sister, Fern, is a monkey. In the literal sense. Suddenly, this is a novel like no other I have ever read.
When she's five, Rosemary is sent to live with her grandparents. When she returns Fern is missing and, soon after, her older brother disappears too. The monkey business is somewhat explicable since her father is a professor and conducts an experiment in order to understand the capabilities of primates and, equally, how Rose's childhood is affected. The line between human and non-human is carefully treaded and then blurred. What does it really mean to be human? What characteristics are the definition and which are supplementary? Peppered throughout with quick explanations and allusions to philosophical and scientific theories, this is a question that can't be escaped. It contributes to the way Rosemary defines herself and how we see her.
Her quirky and humorous voice adds a lightness to what had the potential to be a heavy and difficult read.
It is, undoubtedly "heartbreaking", as The Guardian put it, but also witty and original. The emergence of a ventriloquist's dummy juxtaposed alongside the atrocities of animal testing, encapsulates the masterful way the novel raises some serious questions without becoming preachy or just bizarre.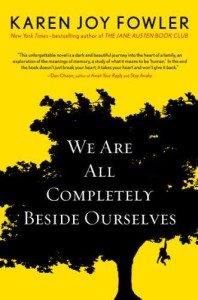 Fern's disappearance, where she has gone and why, is the mystery holding everything together. It goes some way in explaining Rosemary's going from gregarious to silent and her belief that her classic character trait is jealousy. Sibling rivalry, parenting and personality all get called into question. This is all built up though, since the novel doesn't start at the beginning of the story. It starts in the middle. What could be a confusing structure is actually extraordinarily effective and refreshing. It's hard to come by a novel which says, "I've told you the middle of the story now. I've told you the end of the beginning and I've told you the beginning of the end."Surprisingly, it worked.
Fowler managed to create strong and likeable characters, an original plot which deals with difficult questions and strange but powerful vocabulary (phantasmagorical is my new favourite word). It is both gripping and thought-provoking, particularly on the topic of animal rights. Yellow cover or not, it is compelling, clever and definitely worth reading.
---
Image Credits: Header (Flickr/Agus Fadjar), Image 1 (Flickr/Literary Orange), Image 2 (Facebook)