Labour leader Ed Miliband visited the University of Warwick today to unveil plans to end the non-domicile tax rule if his party wins the election on 7 May.
The policy targets those with non-domicile status. Currently, the non-domicile status means that people who live in the UK, but have registered their 'permanent home' as being abroad, can avoid paying tax on their full income.
Miliband's plans aim to close the supposed loophole, meaning that these individuals will be taxed as UK residents.
Miliband unveiled his plan in the Warwick Manufacturing Group's International Digital Laboratory on Wednesday morning.
The event was attended by local and student Labour party supporters. The Boar has been told that the vice-chancellor, Sir Nigel Thrift, was also present and was sitting in the front row.
In his speech, Miliband stressed that if he becomes Prime Minister in May he will ensure that wealthy individuals can not escape tax payments through a non-domicile tax status.
Miliband stated: "We believe in one rule for all. Not one for the rich in society and one for the poor."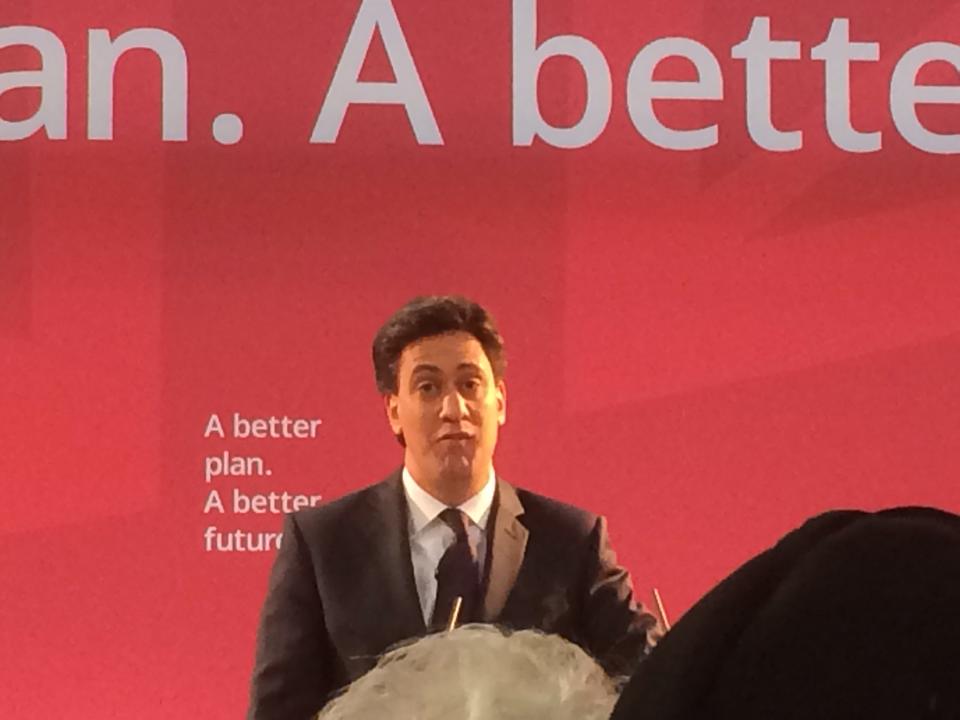 Miliband pledged "one rule for all". Photo: Laura Dickens
Talking specifically on non-domicile status, he added: "These rules are so old fashioned; it doesn't matter where your mother was born.
"I don't blame these individuals for taking advantage of non-dom status. This has been a failure of governments of all parties for the past 200 years."
He pledged: "The next Labour government will abolish the non-dom rules."
Conservative politicians took the opportunity to highlight that Labour's plans conflicted with earlier statements on non-domicile taxation.
Conservatives have stated that in an interview with BBC Radio Leeds in January, Ed Balls, the shadow chancellor, suggested: "If you abolish the whole status, it will probably end up costing Britain money."
Boris Johnson tweeted, "Literally an amazing #Ballsup", whilst the event was still in progress.
Literally an amazing #BallsUp. pic.twitter.com/bgFP2z1TKx

— Boris Johnson (@BorisJohnson) April 8, 2015
However, Labour supporting students and staff who attended the event were positive about Miliband's presence on campus and the non-dom policy.
"Fairer" policy
Laura Dickens, a campaigns coordinator at Warwick Students' Union (SU) told the Boar: "I thought it was really strong, in that it's a policy that appeals to making everything fairer."
Ms Dickens added: "I only joined Labour recently because I feel like Ed really cares about people, which shone through today."
Chloe Wynne, publicity officer for Warwick Labour, said: "Ed Miliband spoke at Warwick. He's strong."
Milo Barnett, a second-year History and Politics student commented: "His policies make for a Britain for everybody. The non-dom policy is an exhibit of this. Common work, common weal."
Another student, Ryan Watts, a third-year undergraduate of Politics and International Studies, stated: "Huge fan of policy announcement. Politicians should spend more time on campus, as it engages student voters. Ed's always welcome!"
However, after the event, a group of Conservative students and supporters protested outside the venue wearing masks of Scottish National Party's Nicola Sturgeon, with banners reading: "We agree Ed: higher taxes, more debt, unlimited benefits."
.@NicolaSturgeon made clear last night she'd prop up @Ed_Miliband– but British taxpayers would pay a high price pic.twitter.com/dsFje0AXN2

— CCHQ Press Office (@CCHQPress) April 8, 2015
William Jackson, a member of Warwick Conservatives and a Conservative District Council candidate for Brunswick, told the Boar: "We attended to draw attention to the fact that Miliband may jump in to bed with a party who vow to break up the UK, just to secure his own power, which has serious implications for us all."
Mr Jackson also raised the issue that the event was kept concealed until the last minute. He said: "It should have been more publicised.
"What's the point of going on a campaign trail to be sealed off in a room away from potential voters.
He added: "Would have liked a chat given the chance."
Other students were also disappointed that Miliband did not engage with the student community.
"Disengaged" with students
Jess O'Brien, a French and History student, commented: "There was absolutely no publicity (I found out through a friend on Twitter) and it took me ages to to find the details.
"His reluctance to address students says to me that he's afraid of the questions he may receive."
She added: "Perhaps he's not strong enough to deal with the voices of educated young people who will hold him to account."
Josh Hounsome, a MORSE student, told the Boar: "I find it funny that he visits a university yet still makes no real effort to attract young voters, as per all political parties."
Former Editor of the Boar, Rebecca Myers, tweeted: "Disappointing to hear of Ed Miliband's lack of interaction with Warwick students today. Could be a hotbed of supporters, might not be now."
However, this claim was refuted by Miguel Costa Matos, who was shocked by this accusation. He commented: "Say what? He interacted."
The Boar has also been told that during the policy event, Mr Miliband only answered questions from the press; he did not take questions from students.
There was also a mixed reaction on Twitter over Ed Miliband's visit.
ED MILIBAND ON CAMPUS: this is the best day to be a politics student pic.twitter.com/1bNoApp1af

— Ryan Watts (@ryanleewatts) April 8, 2015
Labour leader Ed Miliband leads election rally at Warwick Uni http://t.co/yEsMO1AKJa pic.twitter.com/PqK0Ym1OTs" and it was great to be there

— sharon (@fallenangel1969) April 8, 2015
https://twitter.com/shulakombe/status/585747575938142208
#MilibandonCampus …. more like #MilibandoffCampus

— Sophie Dudhill (@Sophie_Dudhill) April 8, 2015
What's your opinion on Ed Miliband, his visit to Warwick and Labour's non-dom status policy – tweet @BoarNews with your views.