Today, Juventus will represent Italian football in the Champions League whilst Napoli, Roma, Fiorentina and Torino will represent it in the Europa League on Thursday. Compared to other European countries, I feel this is an under-representation of a country with football deep in its veins.
Not long ago we praised the ability of AC Milan's 2007 team; now the Rossoneri sit 10th in Serie A. in 2006 Italy won the World Cup (head-butting red-cards aside); in a stark contrast the Azzurri took an early flight with our Three Lions last summer. Nowadays, I am left wondering what happened to the Italian empire of football? My grandad was an Italian, making me a quarter Italian, and I find myself boiling up in anger. Where did this well-discussed decline really start, what is happening right now and is there any hope for the future of Italian football?
Napoli's most famous player, without a shadow of a doubt, was Diego Maradona, who joined the South Italian club in 1984 but before that, some context. During the unification of Italy in the 19th century by Garibaldi, the Italian Treasury was moved from Naples to Rome, this had several economic impacts on the South, bringing poverty and organised crime to the region. The South consequently blamed the North for these problems and an intense political rivalry was born. The rise of football's popularity in the 1920's provided the stage for conflict- North v South; just place a ball in the middle and then decide who comes out on top.
Diego Maradona was the perfect personification for this rivalry.
Diego Maradona was the perfect personification for this rivalry. Before Maradona went to Napoli, he was offered a contract at Juventus which he rejected. After Napoli defeated Juventus in 1986, Maradona became an icon to Southern Italy- they even got tattoos of the striker… and still do! The rivalry of Northern and Southern Italian football was rejuvenated.
On a European level, my mind goes straight to the Champions League-winning AC Milan team of 2007. This was a team which featured Dida, Maldini, Nesta, Seedorf, Ambrosini, Pirlo, Gattuso, Kaka and Inzaghi. The same could be said for the 1999 semi-finalist Juventus team including Conte, Deschamps, Zidane, Davids and Inzaghi. Attendance for the first match was 70,000 and 64,500 for the latter- the fans clearly felt the passion for the sport. These are legendary teams with era-defining people representing Italian football.
Despite being seen as icons for Italy to unify under, the eagle-eyed among you may notice one flaw here: only 4 out of the 22 starting members of these memorable teams were of South Italian origin. Legendary representations of Italian football or of the North –South rivalry which defines Italian football?
This lack of representation, combined with the fan's intensity, has all the kindling for North-South rivalry this season.
In the past, Italian football brought a passion to the pitch not found in other parts of Europe and delivered huge success. There are several Italian matches which could be referenced since Inter's 2010 Champions League victory. Yet the furthest an Italian team has progressed in the Champions League since is the quarter-finals; last year, Milan only made the round of 16. The furor of Italian football has not continued.
Last September, I visited Pompeii but I'm not going to tell you about the frequency of third-style frescoes in the North-West residential area. Whilst I was staying at a hotel, I interviewed hotel manager Dario Conforte, a life-long Napoli supporter. After a day around the town (well, a sort-of town), I sat down for a chat with Dario on the modern Italian game.
The first thing he said was 'I HATE JUVENTUS'- within the fan base, the North-South rivalry is still strong. In Serie A, there are only three teams from Southern Italy- Napoli, Palermo (Sicily) and Cagliari (Sardinia). Between them, they have 24 Serie A victories, of which 14 belong to Napoli. This lack of representation, combined with the fan's intensity, has all the kindling for North-South rivalry this season.
When I asked Dario about the competitive nature of Italian football, he said Serie A was more competitive than EPL. 'There is nothing definite in this league. The little teams, in their own stadium are strong. Every performance brings pressure because everyone believes their team can win. If a player does not succeed in a game, he will be torn apart by the press.' At this stage of Serie A, with Juventus 14 points ahead of second-place Roma, this may not be possible, but according to the fans anything can happen. Dario even said 'If Messi and Ronaldo played in Italy, they would not have 50 or 60 goals but 15.' Icardi of Inter and Tevez of Juventus are Serie A's current top scorers with 15 goals, so there is a case to argue here. However, with regard to Italian goal-scorers, there is a more pressing issue: national talent.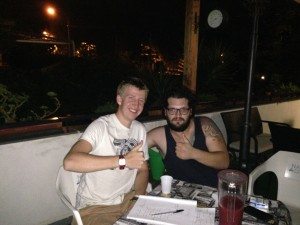 Dario brought up the case of Ciro Immobile. Last summer Immoblie, a young Italian talent from Juventus' youth system, was sold to Borussia Dortmund for 22 million Euros. As a replacement, the Old Lady purchased Alvaro Morata from Real Madrid for 22 million Euros. Italian players are being replaced by foreign talent in pursuit of instant success rather than developing youth talent further; much like English football.
In September, during a visit to Florence (again, look elsewhere for discussion on Gothic architecture), I watched a Serie A match between Fiornetina and Genoa. Juan Cuadrado, before his career-ruining move to Chelsea, was a shining light of talent amid a drab 0-0 draw. Fiorentina played along the wings whilst Genoa used 'long-ball' tactics. If you asked the players at the end of the match what they were playing for, I'm honestly not sure what they'd say…
Despite this lack of pitch action, the noise of the 45,000-strong crowd rolled on throughout the afternoon. Even at half time, there was no break for pies- just chatting about football, constantly analysing the ins and outs of the match. From my perspective, Italian football is currently at a level where it means more to the fans than it does to the players.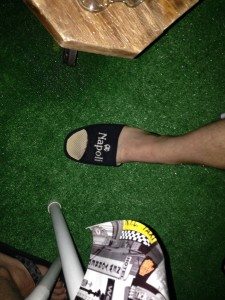 As for the future, there are concerns to be aired. The future of Italian football is Mario Balotelli, but he's not a game-changer in Dario's eyes- 'He's not a good player. He doesn't run'. And yet, perhaps the worst part about this is that Balotelli no longer plays in Italy. Pelle is another rising Italian star who plays in England. Immobile, as already mentioned, plays in Germany. As well as this, the current iconic player of Serie A is a French player: Paul Pogba.
As I travelled across Italy, I noticed something. When you travel through England, you see a variety of sporting arenas: football pitches, rugby fields, tennis courts, lacrosse fields etc. There is a huge variety of sporting arenas in our country. However, in Italy, I had a strong feeling of déjà vu: everywhere I looked, there was a football pitch. From the Stadio Artemio Franchi to two posts in a Tuscan field, the whole of Italy is somehow involved in Italian football. The game is part of the country's psyche.
Despite this, Italy has still been sorely under-represented in European football over the last 5 years. With Juventus their last hope of Italian victory in the Champions League, the days of Maradona, 1999 and 2007 seem long gone. Italian football, in my opinion, is charged by the fans as the beating heart of the fatherland, charged by a historic North-South rivalry and their belief that any team can win Serie A.
The furor remains with the fans but must be reignited in the players.
However, this passion is not currently shared by the players; as the best of Serie A continue to look abroad for talent Italian players continue to look abroad for playing time. This cost the Italian team in a group-stage World Cup exit last summer, just like England, and will continue to cost them on all levels- league, European, International- if something doesn't change.
A decline of past, present and future… continuandum. I do hope my grandad is not turning in his grave…