What book are you reading at the moment?
I am currently reading Jamaica Kincaid's Lucy for my Transnational Feminism course. It's about a girl from the West Indies who goes to the United States to be an au pair for a wealthy white family. It beautifully details the displacement the protagonist feels and opens up a dialogue about how race and space intersect with cultural attitudes. Lucy presents some very ugly values with simple and brutal honesty.
Who is your favourite literary character?
Don't call me the king of the clichés, but I adore Hermione Granger and Luna Lovegood in the Harry Potter books. Luna's social awkwardness and stinging honesty is compelling and heart breaking in equal measures. Although she might be Luna's opposite in ideals, Hermione's utter dedication to her friends and studies shaped my perspective on education and friendship. Everyone should have friends like Luna and Hermione.
What is the first book you remember reading?
I'm an English literature student and I can't remember. How embarrassing. I guess I would say I remember my parents reading me Christmas stories when I was very young. There is something so sweet about the number of parents and guardians who must read stories about Santa to excitable children on Christmas Eve.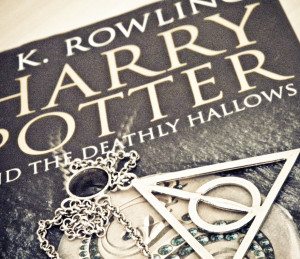 What is your all-time favourite book?
Harry Potter and The Deathly Hallows marked the end of my childhood. I am not backing down on this. I will never forget coming downstairs to a packed room and announcing I had finished it to generous wooping from my family. Waiting outside for that book at midnight in the rain was worth every second.
If you wrote an autobiography, what would be the title?
'I Can't COPE With This Shit'. Seriously, I'm going to write this one day.
Kindle vs. book?
There is nothing sexier than the smell of a new book. I'm old-fashioned and I love taking the luxury of cracking the spine and turning the pages of a novel.
How much is a pint of purple?
Erm. £1.50 on Pop! Wednesdays? I've no idea really. Cider Black is where it is at.
---
Image Credits: Header (Fanpop); Image 1 (amazon.com); Image 2 (Flickr/Thalita Carvalho).
Related Posts