[dropcap]D[/dropcap]uring a clear out in 2012, I found a hardback copy of Heroes Volume 1 that I had been given for a long-past Christmas. "An ill-advised gift," I naively thought at the time. "I'm neither a 13-year-old boy, nor am I incapable of reading actual books".
However, when I needed something easy-going to read, I dusted off Heroes and was immediately hooked. The artwork was stunning, the story and the dialogue were clever and well-paced, and really enhanced my experience of the TV show. I realised that I had been labouring under some pretty serious misconceptions about the world of graphic novels.
There are none of the eloquent descriptions you might find in a novel, but the old adage is true that a picture paints a thousand words
Since starting my part-time Masters, my enjoyment of graphic novels has increased even more. After a day of labouring through a pile of academic journals and text books, it's incredibly relaxing to ingest a story through beautiful artwork and minimal text!
I'd like to present two graphic novels which are a great introduction to the medium, especially if you currently think that you're not a graphic novel kind of person.
---
 The Walking Dead Volume 1: Days Gone Bye by Robert Kirkman and Tony Moore
As television shows don't come much more popular than The Walking Dead (with episodes in Season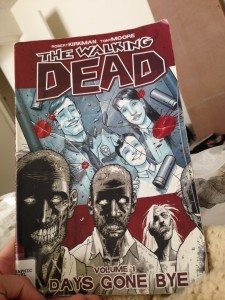 Five receiving viewing figures of up to 824,000 in the UK), The Walking Dead Volume 1: Days Gone Bye would be a great starting point for many people. The black-and-white comic strips reflect the bleak post-zombie-apocalyptic world well, yet Moore's artwork is detailed and has a surprising amount of depth for a black-and-white strip through his excellent use of shading.
The television story-line follows a different path to the graphic novels and, whilst there are enough similarities for it to be familiar, there are also some interesting twists and surprises. The first volume starts with a confused Deputy Sheriff Rick Grimes waking up in a seemingly-deserted hospital, after having been wounded in a police shoot-out.  We follow Rick's emotional journey of comprehending what has happened and his perilous physical journey to become reunited with his family, through to him finding a group of survivors and becoming their leader.
The book captures the rapid swings between emotional scenes, suspense, fear and the desolation of the situation as well as, if not better than the show
If you liked this… then you're in luck, as there are currently 22 volumes available, although Charlie Adlard is the artist from Volume 2 onwards. His style is grittier and less detailed, but this aligns nicely to the declining state of society depicted in the books. If post-apocalyptic zombie-infested worlds are your thing, you could also try The Last of Us: American Dreams by Neil Druckman with artist Faith Erin Hicks, a graphic novel tie-in to the video game and upcoming movie.
---
Scott Pilgrim's Precious Little Life by Bryan Lee O'Malley
You may have seen the film Scott Pilgrim vs. the World and if you have, once you start reading this book, you will notice that the film is almost a direct replication of the graphic novel (in some cases, even scene for scene).
Whether or not you've seen the film, this book is well worth a read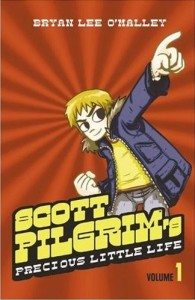 Precious Little Life is part one of six of a heart-warming story which is part romantic comedy, part video game, and partly the coming-of-age story of 23-year-old musician and lay-about, Scott Pilgrim. Scott begins dating the ultra-cool Ramona Flowers, but in order to do so, must defeat her seven evil exes. Cue some very over-dramatic game-style battle sequences, complete with finishing moves. The story is based in Toronto in O'Malley's own childhood neighborhood, and this sense of familiarity with the area permeates the book, giving it a cosy feel, as well as providing a huge amount of detail in each scene.
The characters are generally loveable and the artwork is used well to develop them and portray reactions and emotions. O'Malley is also the artist and his style is somewhere between blocky, almost childish comic book art and Japanese manga. Originally released in black and white paperback, the Precious Little Life is now available in full-colour hardback and is well-worth the extra money.
If you liked this… then there are a further five books in the series. If you want to try something a bit different, then Bryan Lee O'Malley has also just released a new graphic novel entitled Seconds, which is a slightly surreal cuddle in book form.
---
Graphic novels and comic books can be bought online, but nothing beats browsing in a real bookshop. For the real experience, try newly-opened BAM! in Leamington Spa, or Forbidden Planet in Coventry or Birmingham. Comics Etc. also have pop-up stalls in the area, including a regular spot at the Clarendon Pub in Leamington, and occasionally grace our very own Warwick SU.
---
Image Credits: Header (Flickr/Alan Alfaro), Image 1 (forbiddenplanet.com), Image 2 (forbiddenplanet.com).