[dropcap]N[/dropcap]eil Gaiman, the bestselling author of many well-regarded fantasy staples such as Stardust, American Gods, and Neverwhere, has been going from strength to strength in recent years. Alongside novel-writing, Gaiman can be found working tirelessly on a number of graphic novel series; short stories for a variety of collections; and countless scripts for both film and television. I must admit that Gaiman is one of my favourite authors, simply because his stories have such epic and fantastical plots, and I have been eagerly anticipating the release of his latest novel, The Ocean at the End of the Lane. Having recently finished picking my way through it, I have to say that I was impressed.
Yet another novel in the fantasy genre, The Ocean at the End of the Lane is about a middle-aged man who returns to his childhood home for a funeral. Once there, he recalls the strange events that followed the suicide of the family lodger many years ago – a death which disturbed ancient, malevolent forces. Our narrator then goes on to tell the story of his attempts to defeat these forces with the help of his neighbours.
Although not as long or far-fetched as some of Gaiman's previous works, The Ocean at the End of the Lane deals with a host of different themes throughout, which greatly complement and enhance one another.
Gaiman weaves notions of childhood memory, the experience of growing up, and his signature, darkly fantastical style, into what proves to be a highly enjoyable read
One of Gaiman's main themes is the contrast between the worlds of adulthood and childhood, and he explores the link between them through recollections of the central narrator's childhood experiences. In this, Gaiman seems to draw on his own experiences of growing up, exposing elements of his childhood when he states, for example, that "I do not miss childhood, but I miss the way I took pleasure in small things, even as greater things crumbled."
The Ocean at the End of the Lane is Neil Gaiman at his rawest and most open, observing the roles of children and the adults they become. Gaiman suggests that children never grow up and that there is a central element to every person that remains within them for their entire life:
"Grown-ups don't look like grown-ups on the inside either. Outside, they're big and thoughtless and they always know what they're doing. Inside, they look just like they always have. Like they did when they were your age. Truth is, there aren't any grown-ups. Not one, in the whole wide world."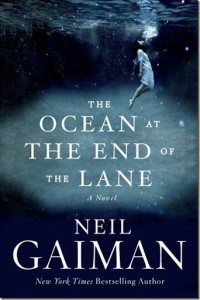 As the story spirals and develops, becoming increasingly unusual – as happens so often in the fantasy genre – Gaiman allows us glimpses into previous moments in his own life. The sheer weirdness of certain sequences within The Ocean at the End of the Lane is eerily reminiscent of our own inability to remember the past, as we are often able to recollect only snapshots or fragments. Gaiman's often-fragmented narrative voice during recollections of the weirder events of the novel highlights a deeper connection between childhood and adulthood, and it's this that really stuck with me once I'd finished reading.
Although The Ocean at the End of the Lane is not my favourite Neil Gaiman offering of all time, with that space being held by American Gods, it does a number of things that I did not expect. Firstly, it provides a greater insight than has ever been given before into the life of Gaiman, making poignant observations about growing up. Secondly, the story appears to be more like a moral tale than Gaiman's other novels, and blurs the line between fantasy and reality through the use of an unreliable narrator, so that its genre is more ambiguous than most of Gaiman's work. Finally, Gaiman writes from the perspective of a child in many of the chapters, which he doesn't much do, outside of a couple of short stories in his collections. I feel that this works to enhance the tone of the story greatly.
Overall, The Ocean at the End of the Lane is a stunningly put-together book that tackles some very large themes. I would definitely recommend it for Gaiman-aficionados and Gaiman-newcomers alike, and no doubt will read it again myself in the not-so-distant future.
---
Image Credits: Header (Flickr/Vincent Morla), Image 1 (neilgaiman.com).