[dropcap]W[/dropcap]inner of the Pulitzer Prize and the Andrew Carnegie Medal for Fiction, Donna Tartt's The Goldfinch is the story of how a boy sees his whole world destroyed in one cataclysmic instant, and spends the rest of his life struggling to piece it back together into a coherent whole. Theo Decker lives in Manhattan with his beautiful, dynamic and creative mother Audrey, following their abandonment years before by his alcoholic father. One morning they visit an art gallery, where Audrey wants to show Theo one of her favourite paintings, 'The Goldfinch' by Carel Fabritius. Theo catches sight of a red-haired girl carrying a music case and accompanied by an older man, and is immediately attracted to her; he is crossing the gallery to try and get a closer look at her when the bomb explodes.
The explosion, result of a mystery terrorist attack, destroys the gallery and kills almost everyone inside, including Theo's mother. As they lie together in the rubble, the red-haired girl's dying companion bequeaths Theo his ring, and in a state of confusion and concussion Theo also takes the painting 'The Goldfinch' with him as he stumbles out of the ruins.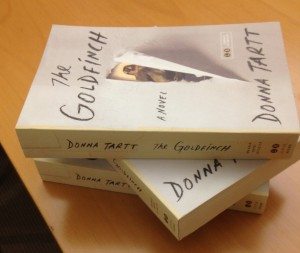 Theo is initially taken in by a wealthy school friend named Andy, where he uses the ring given him by the old man to track down his business partner Hobie, who runs an antique furniture shop. Here he is also introduced to the girl from the gallery, Pippa, whose physical injuries are far more serious than Theo's and subject her to years of treatment and rehabilitation. He is then shipped out to Las Vegas to live with his father. Depressed, lonely and grieving, left to his own self-destructive devices, he is befriended by Boris, a tough, damaged and lawless Ukrainian boy. Together they survive by shoplifting to feed themselves and pass the time drinking and experimenting with drugs. All this time Theo is still hiding the stolen painting, obsessively wondering what to do with it, terrified of being exposed and arrested, but unable to let it go.
A startlingly clever psychological story, the novel never strays into sentimentality despite its almost archetypal foundation: the journey of a young orphan boy cast adrift in the world. Theo is angry, selfish, human, relatable, and, although his situation demands sympathy, it never clouds our judgement of his actions. This novel, painfully honest, often sardonic and always thought-provoking, charts Theo's growth from lonely, traumatised young boy to polished, suicidal, unstable adult, forever defined by his childhood loss and by the shadow of the stolen painting.
Theo is not interested in the painting because it is worth so many millions. For him, it forms a psychic link to that devastating moment where his old life was destroyed and when his mother was ripped away from him. The plot hinges on this crucial moment: it is frozen in the painting of The Goldfinch, preserved, blighting the present but giving it purpose and beauty. So long as Theo has the painting, binding him to the past, he is anchored to life; it is a neurotic obsession that might prevent him from moving on but is also all that gives him any reason to do so.
The Goldfinch is a dark and strange story of addiction, obsession, betrayal and beauty. 
This novel is a fable of human emotion and impulse set in opposition to the laws, systems and institutions that people themselves have set up.This novel deals with economic inequality, mental illness, violence, governmental inadequacy and social meltdown concealed beneath a polite veneer of money and glamour. Above all it deals with love, and with that "history of people who have loved beautiful things, and looked out for them, and pulled them from the fire", irrationally, illegally, simply to answer a strange irresistible call beyond the restrictions of law and order.
It is one of the most human stories I have ever come across.
---