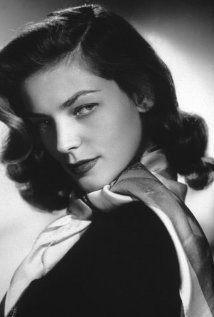 With the passing of Lauren Bacall, we have lost yet another link with the golden era of Hollywood film and one of the last Hollywood greats. Bacall, known for her low, husky voice and sultry looks, was a leading lady like no other. "Stardom isn't a profession, it's an accident", she said in an interview, and perhaps she was right about her own cinematic career: Bacall never intended to be an actress yet eventually became one of the great legends of the silver screen. 
First starring To Have or To Have Not (1944), Bacall immediately enraptured the attention of both the audience and Humphrey Bogart, eventually becoming his wife and often collaborating with him on-screen. This couple invented scandall and glamour: it's enough to watch The Big Sleep (1946) to see the merely contained steaming passion between the two. "Come into my boudoir", says Bogart; Bacall smirks. Yet, as Richard Brody brilliantly observes in his article "The Shadows of Lauren Bacall", her full potential was never realised. She was destined to play CEOs and presidents yet Hollywood only had roles for beautiful wives and mistresses. Hollywood had a hard time dealing with Bacall's independence; and it is sad that nowadays she's more remembered as a wife of Bogart rather than a great actress in her own right.
Let Bacall be remembered as an inspiration to stand one's ground and always maintain a sense of irony; "I think your whole life shows in your face and you should be proud of that", she said, and looking at the pictures of her in her late years, that is what I see: a woman who lived, loved and enjoyed her time here on Earth. As a tribute to the great actress, Ibtisam Ahmed writes about her role in How To Marry A Millionaire (1953), a film he greatly enjoyed.
How To Marry A Millionaire
Co-starring in a film with Marilyn Monroe and Betty Grable is a sign of one's celebrity. Being the lead performer in such an ensemble is a sign of one's talent.
Such was Lauren Bacall in How to Marry a Millionaire. Playing the feisty Schatze Page, Bacall was the standout in this classic comedy. Forget Regina George and Cher Horowitz; Schatze was the original clique ringleader, and an exceptionally clever one at that. As the title suggests, the aim of our beloved, if somewhat dysfunctional, group of ladies is to nab a millionaire in holy matrimony. But while Pola Debevoise (Monroe) and Loco Dempsey (Grable) get side-tracked in their quests, Schatze keeps her eye on the prize right until the last minute. Pola and Loco have the more obvious laughs in the film, courtesy of the former's myopia and the latter's naivety, but Schatze undoubtedly has the meatiest role. Combining subtle humour with an incomparably steely determination, Bacall ensures that Schatze is the most well developed character in the film. It is due to her excellence as a performer that someone with relatively shallow goals still comes across as a complex, multi-dimensional human, something modern comedies always miss out on. Bacall's passing is a huge loss for the film industry.
Although she hated the term because it implied past achievements rather than present success, she was every inch a legend and will be sorely missed.