[dropcap]T[/dropcap]heodor Adorno once said that "writing poetry after Auschwitz is barbaric", stating that the horrors which occurred in this death camp, amongst others, could not and should not be talked about. The Holocaust is a topic which is almost taboo in literature, making it difficult for authors to find a successful way to write about it. This makes graphic novels an appealing literary platform, as they offer artists the chance to express their impression of the effects of the Holocaust without limiting them to just using words.
The Boxer follows the real story of Hertzko Haft (later Harry Haft), a Jew who had the unfortunate destiny to live in Belchatow, Poland during World War Two. Hertsko tragically took his brother's place in a ghetto registration which took him to a concentration camp, and his struggles there are depicted in this book.
[pullquote style="right" quote="dark"]The way Kleist sketches these figures reminds me of the idea that these men and women were "the living dead".[/pullquote] One of the best aspects of this graphic novel, in my opinion, is the way in which the prisoners are drawn. Kleist conveys them as skeletal figures: they are consigned to the world of the dead, but ought to be alive. I feel as though this went some way to express the horrific starvation and inhumane living conditions employed by the camp's guards.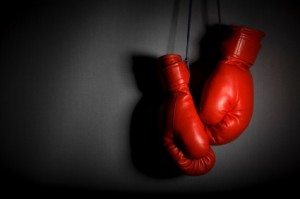 The novel then moves on to follow Hertzko's struggle with his own morality. He is forced to commit some atrocious acts in order to survive his ordeal at the death camps. This raises the question as to whether the holocaust made monsters out of both its perpetrators and victims. This question becomes most potent when Hertzko is forced to conduct boxing matches with other dying prisoners to entertain the guards: if he doesn't kill them, the guards will kill him. Thus, Hertkzo "Harry" Haft's boxing career is born. The rest of the book narrates his journey to America where he once again enters the ring and finds out that the post-war world of boxing is not all it's cracked up to be …
I have to say, I was slightly disappointed by this graphic novel. Perhaps my expectations were too coloured by the fact that I recently read Spiegelman's Maus. This novel also follows the true story of a man who struggled through World War II as a Jew living in Nazi-occupied territory. However, I feel as though Spiegelman made better use of the medium of a graphic novel, employing clever symbolism and ideas throughout.
Still, if you want to read an inspiring true story about how one man made his way through the death camps of World War II to freedom, then have a look at The Boxer. It's a quick, easy read and has some poignant and thought-provoking images in it.
Related Posts