[dropcap]S[/dropcap]ummer is finally here! And you know what that means…it's time to put down your text books and critical theory and grab something fun instead. But which book should you be diving into? A group of dedicated bibliophiles give you a rundown on the hottest books to read this holiday. So avoid peeling skin and sand between your toes, stay in the shade instead with a scorching summer read!
Anna Karenina by Leo Tolstoy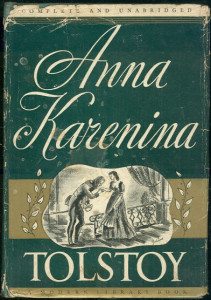 I have not read for pleasure since I was 16. Even then I was reading books specifically surrounding my personal statement to prepare for my university applications. Every book I chose from that age onwards was to help with something, from building an English Literature personal statement to reading for either the year ahead at university or the week ahead… ahem.
Now that degree is finished. The first thing that I have turned to is Leo Tolstoy's Anna Karenina. I've always loved big novels; there's something about sitting on the train with a huge spine on display (size does matter, in this instance) and having a new world to dip into for more than a few days at a time. The kind of book you can put down and feel that you've been on a journey, that you've achieved something.
After having seen the film a while back I was enamoured, and I had to get my hands on the original source of this beautiful story. It's a nineteenth century novel that defies social customs and explores such a broad and intricate set of themes. It has everything – intrigue, affairs, love, politics, gender, class, morality, religion… and there has to be a reason it's on the European Novel reading list.
[pullquote style="right" quote="dark"]To be an English Literature student who has never read Tolstoy seems like sacrilege[/pullquote] I've spent the last three years reading Victorian poetry, Victorian novels, Victorian articles, all based in England. I love the Victorian era, but after a while the repetition of Brontë's, Austen and Gaskell (then repeat) has become tired. Now that I have the time and energy to explore the literary worlds apart from those that I'm studying, I want to see what writers away from England were doing in a time that has always fascinated me. It may not be the lightest summer read, but out of my huge list of 'books to read post-graduation', it stood out. I can't wait to get stuck in.
Katherine Price
[divider]
Stoner by John Williams
Having spent a year reading very, very lovely (but very, very long) nineteenth century novels, this summer I'm in the mood for something a bit different. Although I have an impossibly long list of books I'd love to read – which, when stacked one on top of the other, reaches  to just above my elbow – the one book I'll definitely have time to read over the summer break is Stoner by John Williams.
Stoner's been on my list for about a year now because of the hype it has received recently. A so called "Lazarus-novel", it's a key work in the growing trend of discovering fantastic forgotten classics that are out of print.  Despite the fact it was published almost fifty years ago and then promptly forgotten about, it became the Waterstones Book of the Year 2013 and has been praised by everyone from Ian McEwan to Tom Hanks. It takes a special kind of novel to be raved about by critic, authors and the casual readers alike, and as far as I can tell Stoner seems to be that almost mythical combination of accessible, important and moving. It sounds like the perfect summer read for someone who wants something not too taxing linguistically, but still wants to feel moved and challenged by a quiet, understated but deceptively powerful novel.
[pullquote style="right" quote="dark"]It's a simple yet moving story[/pullquote]  From what I can tell from online reviews and the blurb, the book features a plot no more exciting than a single man's career through academia. But most importantly, the book seems to be about falling in love with literature. It's a simple, tragic but heartfelt tale of one forgotten man's life. Through it all, his love of the power of words comes through.
Occasionally, when I'm grasping my way through some epic nine-hundred page masterpiece at 3am and wondering why on earth I'm studying for an English Literature degree, I feel like I need to take a breather and have a satisfying reminder as to why I fell in love with literature in the first place. It seems like Stoner might just be that reminder.
Bethan Smith
[divider]
1985 by Anthony Burgess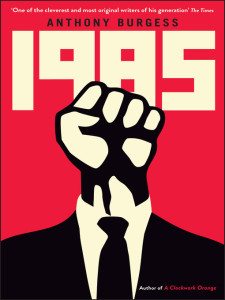 In 1978, Anthony Burgess wrote 1985, responding to George Orwell's 1984, written in 1949.
Got it? Good.
As a fan of Orwell, and dystopian literature, discovering Burgess' novel filled me with excitement. He takes the original concept and reimagines a future based on the trends visible to him, with the benefit of twenty nine more years of history. Colour me intrigued.
Burgess' vision of the future predicts the dominance of trade unions as absolute powers, and the expansion of Islam. Admittedly, it looks like he didn't get everything right, and maybe somebody needs to write a third version, perhaps called 2084. The remarkable thing about Orwell's classic is that it was an astonishingly accurate prediction of regimes such as the Soviet Union, and contemporary North Korea. I am still optimistic that Burgess' attempt may expose some salient truths about the way we live.
[pullquote style="right" quote="dark"]These authors knew how governments warp truth to fit their own purposes[/pullquote] When you first open 1985, you are confronted with a piece of real Soviet propaganda: "2+2=5", referring to the possibility of completing the first Five Year Plan in four years, if workers put their backs into it. This is the only page of the book that I have read so far, and if you're anything like me, an Orwellian failure in arithmetic for Russian propaganda purposes is a great first page. Literature students seem to have the least time to read for pleasure. Whenever I read something not directly relevant to my degree, guilt sets in, because there's a pile of novels for my course saying, "You won't get good grades if you read that book. Read me instead". Not even holidays are completely safe from feeling judged, so you need to make every novel count!
When I found 1985 in the bookstore, I knew that it would be the first thing I read after my exams. It would be mentally engaging, whilst not being a part of my degree. Or at least, that's what I thought. In an ironic turn of events, it's on the list of texts for one of my potential modules next year. Great.
Oliver Neil-Smith
[divider]
Floating, Brilliant, Gone by Franny Choi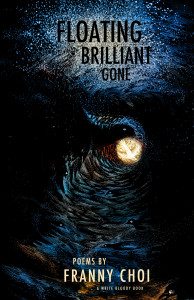 If you haven't already had the unutterable pleasure of experiencing Franny Choi's poetry, now is definitely the time to start. The award-winning spoken word poet, who has featured as a finalist at three of the largest adult poetry slams in the world, writes stirring and sensitive work concerning a wide range of themes. The unflinching and honest bravery she treats personal subjects like the death of a boyfriend and her experiences with racism transforms each poem into a confession, leaving you to make sense of the emotional wreckage she leaves behind.
Although she's released written poetry before, this is her first debut collection published by Write Bloody Publishing (the same publishing house who manages the work of other slam poetry all-stars like Andrea Gibson, Anis Mojgani and Sarah Kay). The collection came out in late March to positive reviews and incorporates both new work and other older slam poems such as Pork Fried Rice and Pussy Monster, a brilliant subversion of the Lil' Wayne song of the same name.
[pullquote style="right" quote="dark"]Choi's strength comes from her unexpected language and bold imagery choices.[/pullquote]I'm really interested to see if the immense power of her performances transfers onto the page.  I watched her performance of Notes on the Existence of Ghosts two years ago and still can't forget her stunning descriptions of leaves on a pavement: 'like the ghost of a letter press still whispering up from a page, a sidewalk is a deeply haunted thing'. It seems like she's sticking to her strengths as the entire collection centers around themes of identity, loss and anxiety- meaning that Floating, Brilliant, Gone is a perfect read for anybody who has just come to the end of their university degree.
Megan Hills
[divider]
On the Road by Jack Kerouac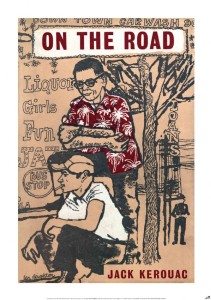 Now that my one and only exam is finally out of the way (sorry guys, you should've picked History), I can finally start reading On the Road, which I bought from Amazon a good few weeks ago.
Based on real events in Kerouac's life during the late forties in America, the reader follows the story of protagonists Sal Paradise and Dean Moriarty on their road trips throughout the United States. In a bid to find meaning in their lives alongside some adventure, their travels illuminated core contemporary issues such as race, class, and the post-war longing for conformity that emerged. Although it was expected that the young and white middle class would adopt this value in the fifties, Paradise and Moriarty's tale acts as publicity for the arising protests of the Beat Generation. This is why I have been so eager to read the novel.
[pullquote style="right" quote="dark"]A keystone in American literature and the Beat movement itself[/pullquote] Not only was On the Road published at an unusual time in Western history (after World War II and at the start of the Red Scare) but it also revealed why some of the American population weren't satisfied with conformity. By criticising society's ideals, it exposed key moral issues for teens to consider and perhaps adopt. These dissenters, labelled 'Beats', questioned many aspects of Western society: for example, they viewed the growing consumer culture and taboos regarding sexuality as detrimental to the human spirit and mind. These pockets of critiquing blossomed into the fights for civil rights and gender equality in the 1960s and 70s.
Personally, I think that it is astonishing how a notable portion of the younger generation assumed this liberal lifestyle despite the presence of McCarthyism. On the Road uncovered the mindset that saw this political phenomenon as almost irrelevant. Furthermore, the radical movements have undeniably shaped the West as we know it today; by reading this book, I'm hoping to gain greater insight into how it has developed, as well as enjoying a great story!
 Emily Buckley
[divider]
Fables: Legends in Exile, created by Bill Willingham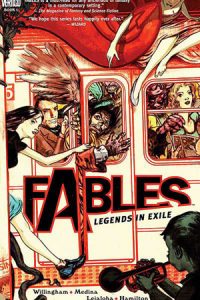 We all know how the stories go. Once upon a time in some faraway land, the princess falls in love with a dashing prince. He defeats the evil villain, and the two live happily ever after. We have been hearing the same plot over and over again since childhood and, no matter how much we may enjoy them, there is no denying that fairy tales can be a little predictable.
This is why I got so excited when I heard about the Vertigo Comics graphic novel series Fables. Created by Bill Willingham, the series is based on how several well-known characters from fairy tales and folklore – the eponymous "Fables" – have been routed from their homeland by a mysterious "Adversary". Now in exile, they live in Fabletown, a hidden community within New York.
The first volume of this graphic novel series, Legends in Exile, follow Fabletown's sheriff, a humanised Bigby (Big Bad) Wolf, as he tries to solve the disappearance and possible murder of Rose Red, sister of Fabletown bureaucrat Snow White. Having read the first few chapters, I can confirm that these are not the stories we grew up on. For one thing, Snow White swears. A lot.
[pullquote style="right" quote="dark"]All the characters have fun sub-plots that poke fun at their tamer origins[/pullquote] Like Gregory Maguire's Wicked, Fables is an edgier take on the characters many of us are so familiar with. However, where Maguire retells single stories, Fables combines several of them in an exciting contemporary setting. Particularly amusing are Belle and Beast's marital struggles that manifest in the latter regaining his more gruesome appearance whenever the two argue. It is also with some guilt that we enjoy watching Prince Charming using his natural charisma to try and bed his way through Manhattan. The crime drama still takes central stage, but these other strands provide a nice counter-balance.
I am definitely a fan so far, and I cannot wait to finish this volume and move on to the next one!
Ibtisam Ahmed
[divider]
What books are you planning to read this summer?
Let us know @boarbooks   #summerreads