The Improv Musical, a branch of Music Theatre Warwick (MTW), is performing at the Edinburgh Fringe Festival for a month this summer, between June 30 and August 27.
The Improv Musical is a MTW theatrical branch which performs improvised plays: a group of actors are given a scenario by the audience and a musical is constructed on the spot. On their Facebook page 'MTW's Improv Musical', the show is described as "an hour of pure improvised entertainment".
As a result of their success at WSAF last year, The Improv Musical have since put on two shows for Warwick Arts Centre and were recently invited to perform at a town hall event in Warwickshire.
They will be performing at the Edinbrugh Fringe Festival with a cast of 15 members, which had been increased from the original cast of seven.
The cast originally applied for a two-week stint in a small studio venue, but were encouraged by the festival organisers to stay for a month and perform in a 250-seater studio for no extra charge.
The full cast list was recently announced: Beth Adams, Laura Bird, Giulia Boggiano, Siobhan Brennan, Jim Burrows, Branagh Crealock-Ashurst, Becca Dunn, Ed Franklin, Mark Fromings, Georgina Harrison, Joseph Henshaw, AJ King, Richard Odufisan, Abhi Subramaniam, and Zoe Tavares.
Marketing co-manager and actor in the Improv Musical and third-year Literature student, Joseph Henshaw commented on their upcoming performance at the Edinburgh Fringe Festival: "we're all incredibly excited. It's the perfect show to be in, as we're going to be doing something completely different every night!
"It's so much fun to do – none of us would be doing it if we weren't having an absolute blast out there on stage".
Fellow actor in the Improv Musical and second-year English Literature student Jim Burrows also conveyed his excitement: "The Edinburgh Fringe is one of my favourite places on the planet, filled with spectacular theatre.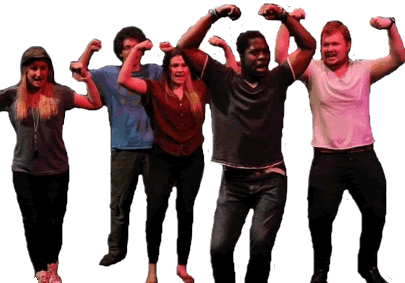 "As a frequent visitor but first time performer, this opportunity is both incredibly exciting and ridiculously terrifying."
Mr Henshaw added that the audience for "loved [their WSAF performance last year] so much, they've invited us back and are sponsoring our Edinburgh fund".
The Improv Musical will also be performing for WSAF this year. Mr Henshaw said that their shows for WSAF this year will be "a big chance for us to try out new cast members before we go up to Edinburgh".
The Warwick Student Arts Festival will be taking place on 21-24 June and the Edinburgh Fringe Festival runs on 1-25 August
The musical started out in 2012 as a WSAF event. Some of the original cast, including Literature student Emma Denley, went on to attend The Royal Academy of Dramatic Art and have gone on to become successful actors.
Stewart Clarke, who has just finished a year-long tour as the lead character in Ghost the Musical, was also one of the original cast members, and went straight on to play Eddie, the main villain in Loserville the Musical on the West End.
The very first Improv Musical was called The Wild West End, and subsequent performances have included titles such as Embarrassing Bodies: The Musical, No Likey, No Lighty (based on the TV show Take Me Out), and The Daily Mail Musical.
The Improv Musical is soon to be launching a website at www.theimprovmusical.co.uk
Related Posts