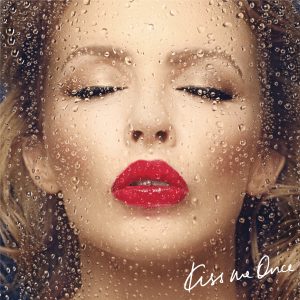 After a switch to the almighty Jay-Z-founded label Roc Nation, this spring Kylie has sprung back into the charts with her twelfth studio album. Album number twelve may be full of modern touches, but there remains something so essentially and effortlessly Kylie about it.
Indeed, there is no unrecognisable reinvention or alter-ego revamping going on here. Though some of the tracks shine, this album is not exactly a ground-breaker – but nor does it claim to be. Sometimes, you just want pop to be pop and, of course, no-one knows this more than the woman who brought us 'Can't Get You Out Of My Head' back in 2001.
A lyrically appropriate choice of opening song, 'Into the Blue' instantly has you in the mood for summer as it floats into that airy yet defiant chorus. A stand-out track, 'I Was Gonna Cancel' features production from man-of-the-moment Pharrell Williams – not a shocking revelation, as you immediately warm to his iconic style, with this effortlessly cool track's hint of funk and slick synths. Watch out for the delicate, if not quasi-operatic backing vocals hovering above the ever-catchy "Go! Go! Go!" refrain.
And as for the high camp one may expect from Kylie? Never fear, 'Sexy Love' is here with its wonderfully, unapologetically generic opening. It's a glistening and simple summer song with a disco feel: everybody wins. This track is also one of the better professedly 'sexy' songs (although 'Les Sex' has been highly commended) and much more easy-going than the disappointing 'Sexercize'. Just in case the concept wasn't immediately obvious from that title, the song bombards you with some clunky rhyme and innuendo, and unfortunately without a hint of irony. The question here is: who told Kylie this was a good idea, and how should they be punished?
It shouldn't work, but it really, really does
Elsewhere, the more ballad-like 'If Only' lures you in with some kind of electro, gobbledygook hook layered over a warmer, and somehow nostalgic synth. As the drama and instrumentation build with each chorus, there is a sense of having witnessed two lovers separated in some inexplicable scene of high tragedy, all through the modern and icy aesthetic of an Amaro Instagram filter. Maybe not… all that matters though is that it was all pretty euphoric and amazing. And if you're not sold, just listen out for the emphatic "if I set you free… and you ACTUALLY came BACK TO ME": it shouldn't work, but it really, really does.
Other artists beyond Pharrell have influenced this album, too. The brilliantly chilled 'Feels So Good' is in fact a cover of Tom Aspaul's MNEK-produced 'Indiana', and Sia Furler, who has lent her talents to so many pop stars, co-wrote the title track 'Kiss Me Once'. Perhaps Sia's touch creates an expectation that the track will vocally soar more than it actually does, but 'Kiss Me Once' still elevates us to the clouds with its dream-like quality and flurry of bells.  Oh, and Enrique Iglesias is on the definitively inadequate drone 'Beautiful', but quite honestly it could be anyone, and there is approximately zero-to-no point to this song. It's okay, we all make mistakes.
If style over substance was ever meant to be a bad thing, Kylie sure as hell didn't know it. It's more likely that she just didn't care. The album cover itself falls somewhere between vaguely cliché and utterly iconic and while none of these tracks are likely to match the successes of those of years ago, Kylie still knows who she is and more or less what we want from her. Plus, she still recognises the power of a pre-chorus, for which we should all be grateful.  Floating lighter than a summer breeze and with the dominant lyric (after 'sex' and 'love') probably being 'sun', this album will make you crave the holidays just that bit more than you already do.
MP3: 'I Was Gonna Cancel', 'Sexy Love'
Similar Artists: Just… Kylie
https://www.youtube.com/watch?v=5AH9H3_rabE
Related Posts