It's not every day you get the opportunity to pick the brains of the editor of one of the most well known newspapers in the UK, luckily here at the Boar two of our writers did.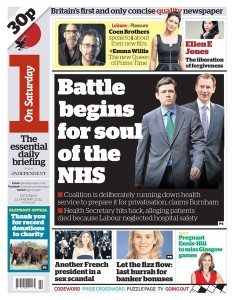 Boar Features: You are the editor of one of the only growing newspapers in the country, both in circulation and in sales. What is the key to the i's success?
Oliver Duff: Dialogue with our readers. We get hundreds of emails a day. Our readers tell us that they like our concise, quality format, our price and our unbiased approach to news – and that conversation with them is essential, and unique in British national newspapers. We have a daily Letter from the Editor on page 3, where I pick up on points raised by readers. i has the most prominent Letters page in Fleet Street, and readers have the chance to question political leaders like David Cameron, Ed Miliband and Nick Clegg. We also stage events around the country, such as the Student iQuiz final in Coventry, and our new iStudent debates in Cardiff and Manchester – with more to be announced.
BF: You started your career within the Independent family as an admin assistant in 2003, a role that many graduates hoping for a career in journalism will surely take on. You were appointed as the Editor of i 10 years later, and can boast a career that many would envy. What tips from your own success would you pass on to others?
OD: Offer to make the tea and do all the dogsbody work, keep your head down and jump at every chance someone gives you. It's that cliche about a foot in the door. Read the papers – in their print form. Try work experience in lots of different places, local, student, regional, national, radio, telly, online and definitely print. Come in early and leave late. Learn who to ignore. Travel whenever given the opportunity. Spend time coming up with really original story ideas. And have fun!
BF: The i has defied the current threat of declining popularity in print journalism. Why do you think this is, and how can we continue to work towards combating this decline?
OD: Launching i was a risk – we had no idea whether people would like it. Why has it worked? Because i is unique in the newspaper market. We speedily digest Britain and the world for our readers, trying to do so fairly and adhering to standards of journalistic excellence, all at great value. That combination of brevity, quality, value and dialogue has been a winner so far, but we know there's much more to do. Our readers keep us on our toes and help us to innovate and to improve the paper.
BF: The face of journalism has changed enormously in a very short space of time. What is your favourite thing about today's journalism, and what would you say was your least favourite?
OD: I cannot imagine another profession with as much variety and freedom to pursue interesting ideas. I became a journalist because it was fun and you could help to change a few things for the better. I still feel exactly the same way, although with a much greater sense of responsibility to our readers. I also love hearing from i readers – their goodwill, enthusiasm and constructive criticism spur us on. Least favourite thing? The occasional tendency for doom-mongering about the print media. People like the printed word, it is going to be around for years. Roughly 8 million people buy a national paper each morning, our newspapers have a digital audience numbering hundreds of millions around the English-speaking world. British journalism has never had more readers. Take the case of the Independent and i: the combined print circulation is higher than it has been since October 1995, let alone the 33 million online. The letters I enjoy the most are from people, young and older, who say they have never bought a newspaper before and are now reading i.
BF: Before your current position at i you undertook a vast assortment of roles, including working as a reporter, gossip columnist and news editor. Amongst these positions was a three week stint as a bar critic from which you were fired. Assuming your dismissal from this role was the result of some kind of disagreement regarding your works content, how would you epitomize the ideal balance between keeping true and honest to yourself as well as your readers whilst still abiding by the necessary expectations of the publication and its advertisers?
OD: At the time they wanted reviews of the smartest new bars, whereas I frequented spit-and-sawdust establishments, the sort of places filled with the alien patrons of the Mos Eisley Cantina bar in Star Wars. The divorce was extremely cordial. I do think it's important to be forced out of your comfort zone. I was a junior reporter droning on about my own niche interests when the editor dragged me into his office and appointed me the Independent's gossip columnist, against my will. I couldn't imagine many jobs on the paper that I wanted less – I didn't give a toss about celebrities. But I had a hoot, it was like throwing paper planes from the back of the class. Penning short diary items sharpened my prose, while spending every night out working at film premieres, book launches and meeting Westminster moles built my contacts book. After two years I was ready to join the news desk again.
BF: You write an editor's letter every day. Do you ever struggle to find something to talk about?
OD: Absolutely. Some days are more inspired than others. I tend to have a few ideas in my back pocket, but once or twice I've got to 8.30pm and thought, 'I really must make a start on the letter…' Fortunately we've been busy over the past six months, developing the paper, so there's been lots to write about, and readers raise all sorts of interesting topics too. Plus I used to be head of news so I'm fairly stuck in to the news agenda, and I enjoy writing about our front page story, or a good talking point from the inside pages.
BF: Having a distinct, recognisable voice and opinion is a celebrated ability for any writer to have, what would you identify as essential steps in honing this skill?
OD: Don't force it. Better to underwrite than to drive the reader away in a hail of bombast. For comment articles, research the hell out of a big issue before passing judgement, then wear your research lightly; too many comment pieces are ignorant. Entertain as well as inform.
BF: Nowadays, the trend for prospective journalists is often to go and do a journalism MA. What's your opinion of this trend, and what would you say to students who perhaps cannot afford the MA route?
OD: It's an effective route in – but far from the only one. Not having trained in shorthand, law and ethics can hold you back. Most important though are tenacity, perseverance, a little literary skill, curiosity about the world – and bags of ideas. I couldn't afford to take an MA, which was why I was chuffed to take the admin job at The Independent. Work experience matters a great deal: being able to demonstrate a lasting interest in and commitment to the media.
BF: Pitching prospective articles to publishers or applying for that essential internship via email can be a difficult process, what advice would you give to somebody wanting to stand out from the competition?
OD: Don't mass-produce uniform cover letters – always write a tailored, personal note to someone. Proof-read it 20 times before sending, to strike out the cliches. Is the idea/cover note original? Why might this particular person and publication be interested in you / your article? (Do your research first.) What can you offer that others won't?
BF: Speaking of competition, this February Warwick will be participating in the final of i's iQuiz, the student-only competition pitching teams from universities across the country against each other in a bid to win a 14 day trip around Europe. Do you have any words of encouragement for our team, or maybe even a cheeky hint as to what they should expect?
OD: Advice from me? Don't ask. My best result in a quiz was seventh place at the local pub, we won half a watermelon and a can of Export. I seem to remember 'Invictus' working for Mandela and the Springboks. Knowing our iQuizmaster Simon O'Hagan, lateral thinking will be important – no one can revise these answers. Sometimes the clue is in the question. There will also be an 'In the News' round, so read i in advance.