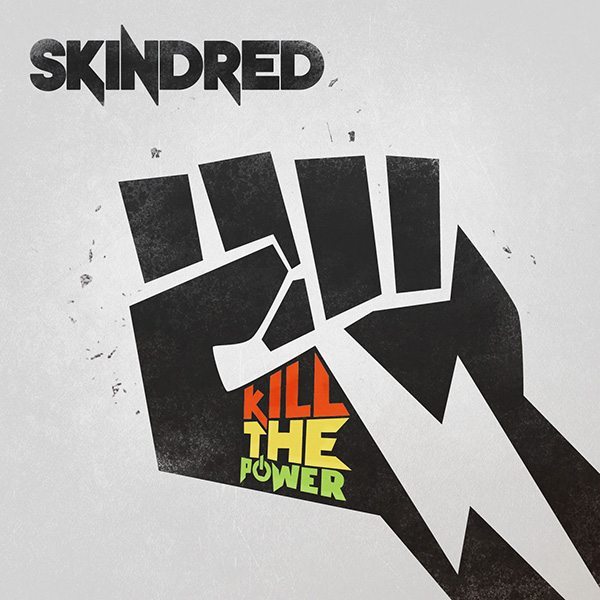 There are few bands like Newport's Skindred. Their fusion of metal, punk, reggae, and electronic influences into their own highly distinctive brand of heavy music, labelled by many as "ragga-metal", has carved them their own niche within the UK rock scene.
While the band's early music focused heavily on big guitars and nu metal dynamics, the band has continually diversified their with each release, and Kill the Power is no exception; this is an album which transitions between genres frequently, sometimes several times during the same song. In this sense, the album could be described as the natural progression from their previous effort, 2011's Union Black, but greater variation gives rise to the risk of greater inconsistency.
The album starts off very solidly indeed. The titular opener is vintage Skindred. Complete with bouncy hip hop-influenced riffing, as well as catchy lyrics, it's designed to be shouted along to in some sweaty club after a few drinks. 'Ruling Force' and 'Playing with the Devil' follow in a similar vein, but with more overt electronic influences; the former does a better job of blending the two, but both will certainly be popular with fans of the band.
Complete with hip hop-influenced riffing, it's designed to be shouted along to in some sweaty club after a few drinks.
Fourth track 'World's On Fire' is huge in every sense of the word. Building from reggae verses into colossal heavy riffs and a chorus Linkin Park would envy, this tune is bound to become a staple at Skindred gigs near you in the not-too-distant future. Following this is no mean feat, but 'Ninja' is really something special and undeniably the album highlight. Its sense of humour (it includes a multitude of video game references) is matched only by its copious amounts of groove.
Unfortunately, the second half of the album is not as strong as the first. Of the less-heavy songs that fall after the midpoint, the fun and inoffensive 'The Kids Are Right Now' is the strongest. Tracks such as 'We Live' and 'More Fire', however, manage to be dull to the point that they ultimately derail the pace of the album. The pop punk 'Saturday' is more upbeat, but for the most part sounds like a merely competent Blink-182 cover. It's interesting enough if that's your kind of thing, but it's a little musically one-dimensional compared to what we're used to from Skindred. 'Dollars and Dimes', meanwhile, is another fairly heavily dub-influenced work that's varied enough to show off the lighter side of the band in a better way.
Later album highlights include the drum and bass-influenced 'Open Eyed', as well as the album's heaviest track, 'Proceed with Caution'. Both contain big hooks and even bigger breakdowns, ensuring the album doesn't dip off as much as it could have towards the end. Overall then, Kill the Power is still one of Skindred's better efforts, but due to the variation in musical styles it's unlikely that all of these tracks will appeal to any one person simultaneously.
Similar To: Korn, Linkin Park
MP3: 'Ninja'
Related Posts