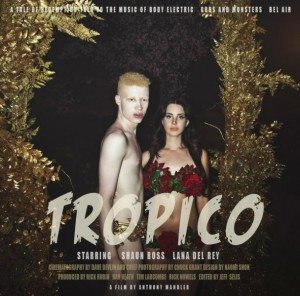 On the 6th of December, the distinctive American songstress Lana Del Rey premiered her new short film 'Tropico', described as a 'tale of redemption' set to her own music.
The trailers released in the run-up to the debut had proved both weird and wonderful in true Lana style, with the singer and her on-screen partner blowing bubbles against an American backdrop, bowing before American icons and sprawling themselves across vintage cars.
Then, the mini-clips presented Del Rey in an underworld show of striptease and violence, before kneeling to God, aka John Wayne, whilst covered in a white flowered veil praying for forgiveness. Such scenes built up our expectations for a chillingly unique and unusual spectacle of song, craze and religious ceremony. 'Tropico' delivers on all counts.
Beginning with a biblical dialogue concerning movie legend and American symbol John Wayne, Tropico sees him set as the creator of the Universe in which Lana casts herself and African-American albino actor Shaun Ross. Begging for forgiveness from, and bowing down to, the cowboy fits into the 'Lana style' of painting a wild American scene.
Previous music videos 'Ride' and 'National Anthem' saw Lana Del Rey celebrate US sentiments and symbols such as Converse trainers, Harley Davidson bikes and bikers, Native headdresses, the glamorisation of JFK and the virtue of freedom. 'Tropico' continues this nationalistic obsession as John Wayne takes centre stage as a Godly force; Jesus, Marilyn Monroe and Elvis Presley join the all-star line up while Lana and Ross watch on. Here, Del Rey's fixation with Monroe, Presley and Jesus from the song 'Body Electric' comes to life. In the song she groups herself with her idols claiming that "Elvis is my daddy, Marilyn's my mother, Jesus is my bestest friend. We don't need nobody, cause' we got each other."
Lana Del Rey often conveys her sombre moods in songs about love and sadness, presented in videos that celebrate American styles. 'Tropico' seems to be merely an extension of this patriotic obsession.
The transformation from song to picture of this uncanny, spectacular group makes for an interesting vision: a serene Eden before the storm. Once Lana resorts to temptation and bites into an apple though, 'Tropico' twists into a dark, sultry epic of sin in line with the next track from the Paradise edition of Lana's album Born To Die: 'Gods and Monsters'.
We arrive at the darker side of the American dream with Lana now cast as a cash-greedy stripper indulged in a scarlet life of drugs and guns surrounded by boobs, bums and dollar bills. All of these pictures align with the lyrics of 'Gods and Monsters' where the glam singer sees "innocence lost".
The short film later returns to its more innocent roots, but only after a climactic minute of disruption whereby a group of businessmen enjoying the services of Lana Del Rey and her fellow strippers are attacked by masked gunmen. Such chaos is presented alongside flickers of Jesus reminding us of the sin-free images from the beginning.
With order restored after this chaos, 'Tropico' features some poetry narrated by John Wayne. The lines are from Mitchum's poem 'Why I Love America' and describe the various picturesque landscapes such as the 'Kansas sunset' and 'Arizona rain' while Lana and her sweetheart drive off into the mountains.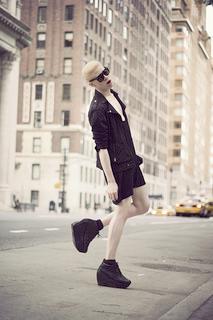 The spot of poetry from John Wayne leads into the final twist of 'Tropico': a more tranquil storyline narrated by 'Bel Air', a song about union and idyll. The sets are mystical, the visions somewhat dazzling. Shaun Ross plays an edgy partner to the fiery yet pure Lana Del Rey in a disturbed narrative.
Director Anthony Mandler's style is clear in 'Tropico.' Parallels can be drawn between Lana's film and his many other works, such as Taylor Swift's 'I Knew You Were Trouble', Nelly Furtado's 'Maneater' and 'When You Were Young' by The Killers. All of these videos are vivid, fast-paced and chaotic. Add Mandler's dark directing style to Lana Del Rey's creative touch and masterpieces such as 'National Anthem', 'Ride', and 'Tropico' are created.
Overall, many will view this short film and see such scenes as just random indie images mashed together with no purpose other than to express Lana's bewildering thoughts. However, if you have heard the 'Born To Die' album, these distorted messages of sin and retribution delivered by American icons fit together coherently. It is the video representation of the singer's album.
Lana Del Rey often conveys her sombre moods in songs about love and sadness, presented in videos that celebrate American styles. 'Tropico' seems to be merely an extension of this patriotic obsession.
On first viewing the short film, I saw the video as one of glamour and fascination: a typical Lana Del Rey creation. In fact, it is more of a story of the American dream – and its antithesis, the American nightmare. Icons and innocence are set against violence and sex until Lana Del Rey arrives at a peaceful conclusion.
Ultimately, many will view this short film as a collection of superficial images and somewhat contrived scenes, lost on those who have not previously heard Lana Del Rey's music. In my opinion, she is a creative poet rather than a hippy singer obsessed with the weird and wonderful – as illustrated in 'Tropico'.
This fantastical story appears to be a representation of the paradise discussed in Lana Del Rey's first album. She summed up the short movie best when, at the premiere, she described 'Tropico' as "visually closing a chapter" before the next one (her new album Ultra-Violence) opens.