Every summer, the world's oldest music festival (still in existence) is burdened with stratospheric levels of expectation, thanks to its history of delivering fantastic line ups decade upon decade. Following Glastonbury's suffocatingly-good line-up, spearheaded by Arctic Monkeys, The Rolling Stones and Mumford & Sons, it seemed that Reading & Leeds had a hard act to follow. However, because the event promised the delights of some of my favourite artists of all time, I decided to journey to the northern leg of the festival, and I certainly wasn't disappointed.
In fact, there was only one thing which a southerner such as myself could regret after travelling all the way to Leeds: the weather. I wasn't too concerned upon seeing the forecast for the weekend (quote BBC Weather: "light showers"), until our less-than-adequate tent flooded on the first night and we ended up having to retreat to my friend's house back in Leeds (hooray, warmth!). Nevertheless, in spite of the persistent drizzle and the welly-deep mud, the spirit of the northerners wasn't dampened a jot, and the 75,000-strong turnout could certainly be called a muddy good success.
Friday's headline act – Biffy Clyro – was met with concerns regarding whether the band was really an astute choice for headline status. However, with six studio albums, eight awards and more than a handful of UK hits under the group's belt, even the doubters couldn't deny them the top spot, especially considering the stunning setlist they delivered. The group placed huge emphasis on spectacle, featuring the album artwork of Opposites as a stage backdrop: an image which was later used to create other effects, including the structure of a pair of lungs. The musicians themselves emerged topless for the opener of 'Different People', which seemed slightly superfluous at first, but after witnessing how much Simon Neil perspired throughout the performance, I was appreciative for the absence of sweat patches.
Face-scorching pyrotechnics were deployed from the off as the set built towards the group's more popular songs, yet as soon as the band launched into two of my favourite songs of theirs in sequence – Biblical' and 'God & Satan' – a state of total euphoria enveloped me along with the entire crowd. The group even recognised the need for the crowd to take a breather, and Neil played a handful of simple solo acoustic numbers, including 'Questions and Answers' and 'Machines'. But the quiet didn't last for long as Biffy delivered 'Many of Horror' to streamer cannons, before Neil smashed his guitar at the close of 'The Captain' (apparently he set it on fire at Reading: how can they afford to destroy so many guitars?!). The band returned to rapturous applause and mass screams of "SCOTLAAAAAND!" to perform a show-stopping encore, which concluded with the expected 'Mountains' and a host of fireworks.
In spite of the persistent drizzle and the welly-deep mud, the spirit of those present wasn't dampened a jot, and the 75,000-strong turnout could certainly be called a muddy good success.
On Saturday evening, there was no contest when it came to choosing stages, since one of my favourite bands of all time was headlining. (Sorry, Skrillex). I must admit that I was probably slightly out of it for Green Day's opening number '99 Revolutions'; not from too much alcohol, but from hyperventilating upon the group's entrance and essentially ascending to heaven. The first leg of the set included what would traditionally be expected from the band: a couple of new songs; a (very muddy) fan being brought up onstage; and of course, an emotional delivery of 'Boulevard of Broken Dreams', during which I (quite unashamedly) shed a few tears. However, the second half of the set was unique.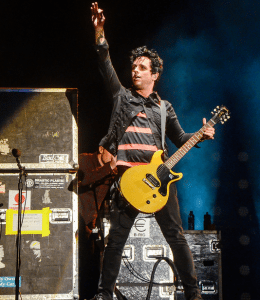 With the 20th anniversary of the Dookie due next year, the band played the full album front-to-back with ecstatic results (although this has sparked rumours that they may not be touring again for a while). Whether a fan of the group's old or new material, everybody present was surely impressed with the passion that Green Day poured into the performance of their widely-acclaimed album, and their old style returned to them with apparent ease. Their spectacular encore naturally comprised of 'American Idiot' and 'Jesus of Suburbia', yet Billie Joe Armstrong surprised the crowds by returning to the stage for a second encore of his own, which ended in a very raw and acoustic version of 'Good Riddance': one which left fans everywhere with lumps in their throats.
The final headliner of Leeds Festival certainly boasted the "wow" factor. The one-and-only Eminem's performance was another which triggered controversy, as he did not allow it to be filmed or recorded for television and radio coverage (no video link for this one, sorry guys). There was much speculation surrounding his reasons for imposing such a rule, among them rumours that he wasn't going to turn up; that he was miming; and that he was playing all of his new material. I can vouch that, firstly, he did turn up; secondly, it would be near-on impossible to mime to such music (and he certainly didn't); and finally, he did play new material, but not a huge amount of it. Instead, he personally claimed that he didn't want those who hadn't paid for a ticket to see his performance. Fair enough – after all, it was he who lost out on the royalties, and it made our show that little bit more special.
And he didn't disappoint in the slightest, bouncing onstage faster than one could say "Shady's back", and proceeding to hit the audience with the first sneak peek of his upcoming album The Marshall Mathers LP 2. He certainly recognised that he couldn't cram all of his hits into a two-hour slot, and thus he cleverly weaved what was essentially a musical autobiography. From some of his more political works such as 'White America' to the confessional 'Cleanin' Out My Closet', he whizzed through his set with a delirium that the audience lapped up. The tension peaked when he introduced Dido for a rendition of 'Stan' which naturally went down a storm, and then went back to his roots and provided a delicious mash-up of 'My Name Is', 'The Real Slim Shady' and 'Without Me'. He concluded the setlist with a single-song encore of 'Lose Yourself', where he was almost drowned out by the word-perfect screams of the crowd, which defined the final tone of the festival: absolute euphoria and awe. Slim Shady certainly proved his return to be a corker.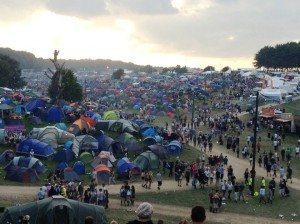 As for the other acts at Leeds, even if I hadn't been blown away by the headliners (which I emphatically was), I managed to cram in views of another 19 gigs. Newly-reformed bands Fall Out Boy and Nine Inch Nails lived up to the hype of their return, performing old and new material to the delight of old and new fans alike, and Chase and Status (despite really just being a pair of blokes jumping about mouthing the words to featuring artists' vocals) seemed to successfully gear up the crowd for Eminem's arrival. Earlier acts on the main stage were generally of good quality too. Twin Atlantic of Glaswegian fame delivered a beautiful rock and indie set, where their passion for performance shone through, and the delightful folk-rock sound of The Lumineers echoed through Bramham Park with the crowd chiming in for the hit 'Ho Hey'.
Unfortunately, as is the case with many festivals, many of the top headliners for the Second Stage clashed with those of the Main Stage. I devastatingly had to ditch Alt-J for Eminem (I will see you one day!), but I managed to dash between the both venues for a number of sets, including those from Alex Clare, Bastille and Imagine Dragons. In my opinion the latter was the surprise success of the weekend, producing an electric atmosphere which even encouraged an audience which far exceeded the tent's capacity.
As usual, Reading & Leeds proved itself to be one of the UK's leading festivals in terms of size, quality and atmosphere. The headliners certainly hit the spot with a series of crowd-pleasing sets, and overall, the event struck the rock/indie chord it usually aims for very well. Not only did it highlight the work of some absolute legends, but also gave emphasis to the smaller stages and up-and-coming artists. I can't wait until next year to see how Festival Republic attempts to top 2013.
Related Posts