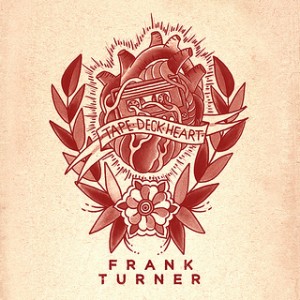 I'm a pretty old-school fan of Frank Turner.  I've made the pilgrimage from those scummy Camden venues to slightly-bigger-but-even-scummier Brixton venues; from radio-edit singles to the shudder-rush of receiving new albums in the post; all the while revelling in tracks which cut right through listeners with a searing breakdown of their own emotions.
Turner's albums are, and always have been, a very personal experience.  Unlike his live gigs, which are characterised by the unity in libertarian politics as crowds shout together that they won't shut up, his albums are where the listeners really do shut up.  Tape Deck Heart is such a record: you shut up because, frankly, it's uncomfortable.  Aside from the odd belter, it's a heart-achingly sad compilation of tales of a real love – just an everyday love, from a grimy dancefloor, from an airport waiting lounge.  Turner's lost love has been stripped back to the bare bones of spitting and yearning.
The album opens with 'Recovery': a better decision never made by a producer.  This track is the post-breakup declaration that, in fact, recovery is in sight, and reaching it a real possibility.  It's invigorating, yet it simultaneously sets the listener up for the record's subtle descent into brutal aches, fruitless searches for meaning, and self-harm scars.  For an album Turner himself has described as the equivalent of a "late night whisky filled with tears", 'Recovery' serves as the ultimate break-up song.  The uplifting instrumentation of jangling guitar and pianos are perfectly matched with the lyrical genius of "let's just tell them that we met in jail", and the Sleep Is For The Week fans will recall the dialogue of "blacking in and out in a strange flat in East London".
"Aside from the odd belter, it's a heart-achingly sad compilation of tales of a real love…"
The "fuck you" stage of love's death is killed off almost immediately, as Turner spirals into self-evaluation not far from self-loathing, spitting "I can fuck up anything" on the coarse anger of 'Plain Sailing Weather', and sinking into a poppy acknowledgement of loss in 'The Way I Tend To Be'.  Unfortunately, both tracks epitomise one of the main problems of Tape Deck Heart.  Appearing in various forms as live recordings prior to the album's release, the sheer difference in the live and album versions reveals the cracks in the album's otherwise platinum performance.
Some of the tracks on offer here are simply overproduced.  As ever, Turner's poetic lyrics do save many of them, and the brilliance of the phrase "the way I tend to be" rescues a dangerously poppy album cut, but elsewhere, 'Losing Days' sinks under the weight of its own production, standing as one of the record's most disappointing moments.
The production of this record was indeed a gamble for Turner, with Rich Costey taking control this time around.  Turner himself has acknowledged the transition, claiming that "the production is a massive step up for me", but is it a step in the right direction?  The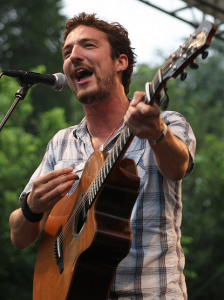 trouble is, Tape Deck Heart comes off the back of the acapella experimentation of 'English Curse', and, as Turner feared, some of the newer tracks do suffer from over-scrutiny of his new-found success and following, of which I am no doubt guilty.
The album's quality does waver, despite the midsection's homage to his live performances ('Four Simple Words' scoring top marks for its uncompromising crowd-rousing potential).  However, the last few tracks really do serve as the album's saving grace, bursting through expectations to rest in a bitterly uncomfortable place of emotional genius.  From 'Tell Tale Songs', on which Turner drags his plectrum down a blackboard while cursing "God dammit, Amy", to 'Anymore', which is, for me, the culmination of everything Turner was trying to achieve with Tape Deck Heart, he offers everything he has musically.
The album's final push is where Costey proves his worth: you sense he feels the importance of a track as stripped-back as 'Anymore', especially against the piano, accordion, organ, mellotron, Rhodes, Wurlitzer, mandolin, and xylophone employed by Matt Nasir across the rest of the album.  Special mention should go to Nasir, whose musical genius – particularly on the mandolin – provide a similar contribution to that of John Frusciante on Stadium Arcadium.  In many ways, this is as much Nasir's album as it is Turner's.
'Broken Piano' provides Tape Deck Heart with the perfect finish, harking back to the recounted mornings-after in Turner's very own London town, yet the song doesn't alienate his new followers.  In the extended editions, however, there lurk six more tracks, which are definitely worth a listen.  'Tattoos' feels like a shout-out to his old-school supporters (who indeed have many of Turner's own lyrics tattooed across their bodies), and 'We Shall Not Overcome' does the exact opposite of its name with its piano backing; a cheerier pudding experience to an album core that demands as much emotional investment from its listeners as its creator.
Tape Deck Heart is another Turner triumph; smoothly navigating the speed bumps that a fifth album and Olympic success have no doubt thrown up.  This accolade is more than hard-earned, well-deserved, and even, perhaps, a little conservative.  After all, with my favourite tracks emerging as the most hardcore, the most uncompromising, the most classic Frank Turner, I have to wonder: am I just searching for the way Turner tends to be?
Similar To: Billy Bragg, Beans On Toast, Biffy Clyro
MP3: 'Recovery', 'Anymore'