WARNING: This review contains spoilers for those who are not familiar with the plot of The Great Gatsby.  You have been warned…
It's Saturday night.  I've got a heavily beaded black dress on,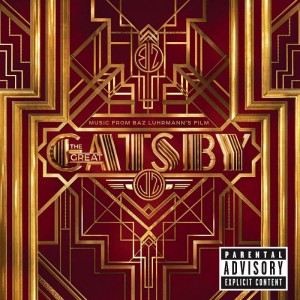 my hair is in seductive curls, and I'm drinking a gin martini.  It's finally time to listen to the most anticipated film soundtrack of the year.  Never mind the film, the music is equally exciting: produced by Jay-Z and released by Jack White's record company, its tracklist promises an hour of 1920s delights fused with the hot young talent of today.
First up is Jay-Z, with his effort '100$ Bill', which boasts an incredibly catchy hook that will have listeners chanting along in seconds.  It's done what the James Brown / Tupac mash-up could not: because it was specifically made for the film, the intersecting audio-visual mediums complement one another much better.  Horns add a nice period touch as the second track begins.
Have you ever heard someone take a song and completely turn it upside down, changing everything about it – apart from the lyrics – and making it completely their own?  Beyoncé and André 3000's cover of 'Back To Black' does just that, and what a masterpiece it is.  It's subtle electro-dub: the beat doesn't dominate the song, but instead provides a sensual, heady backing to those breathlessly alluring vocals.  The whole thing is ridiculously sensual, and I can almost see myself writing around on the floor of Gatsby's dressing room, making it rain with scarves.
Sadly my Charleston isn't up to will.i.am's offering, 'Bang Bang'.  A mystery female – Britney?  Fergie? – drops in for the chorus, but – luckily – my expectations weren't set all that high.  We are talking about the man who insists on hashtagging #every #damn #thing #he #says.  The scat-singing is an inspired touch, but sadly doesn't save the song, which is only a mediocre mash of horns and David Guetta beats.
Fergie pops up on 'A Little Party Never Killed Nobody (All We Got)', the title of which becomes slightly ironic when considering the book's plot.  I am sad to report that gone are the days of Fergalicious glory.  This song firmly belongs in a sweaty underground club, not on the silver screen.  Another unwelcome pop-up is Florence + The Machine; don't go hating on me, but all her songs sound the same, with whispering vocals, echoes and shouts at the appropriate moments.  The only feature that distinguishes 'Over The Love' from the rest of her catalogue is the repeated references to the green light.  This is the Great Gatsby soundtrack, we get it.
"As with everything Baz Luhrmann's little finger has ever touched, it's glamorous and indulgent, and we can only hope that the film matches its enjoyability…"
A more welcome addition is Lana Del Rey's 'Young And Beautiful'.  With Baz Luhrmann's writing influencing the track alongside Del Rey's voice (which was essentially made for this era), it's the song that reflects the decade most poignantly.  Coco O.'s 'Where The Wind Blows' is carefree and fun, like the average afternoon on the porch, with scatty beats intersecting nicely with piano jives.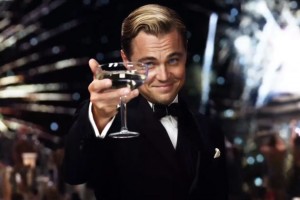 I do wonder why Emeli Sandé is covering 'Crazy In Love', especially with the Queen sitting there on the other end of the album, but you know, whatever.  Having heard enough Emeli Sandé to last a lifetime during 2012's special events, I was reluctant to even listen to this, but it's actually rather good.  It's a hot little jivey number, and whilst it's not a patch on the original, it's perfect for the film.  Speaking about being perfect for the film, that applies for The xx's 'Together' too.  In typical style, it's sublime, understated, and has that clever repetitive beat that clearly reflects the flashing green light.  Cute, just like Gotye's 'Hearts A Mess': a quiet, smooth runner.
The soundtrack ends with three killer tunes.  First up, Jack White's 'Love Is Blindness' is appropriately energetic and reckless, perhaps in reflection of the – SPOILER – car crash?  However, this is perhaps better achieved by Sia Furler's turn on the album, with her tell-tale song title 'Kill And Run'.  Nero's 'Into The Past' is a match made in 1920s-electro heaven, whilst cleverly hinting at Gatsby's hidden past.
Overall, this is a well-crafted album, and one which you could interpret as several artists getting together, putting together an image of a single person, and then going into separate rooms to write songs about him.  It's a good reflection of the book and most of the tracks nicely reflect the time period and overall vibe of the album.  As with everything Luhrmann's little finger has ever touched, it's glamorous and indulgent, and we can only hope that the film matches the soundtrack in enjoyability and faithfulness to the novel.  If it doesn't, at least you can close your eyes and lose yourself in music.
Related Posts