You know the popular phrase, BooHoo are a girls best friend? Well this festival season it could not be more true. Say goodbye to the same old camping clothes and steal the show (regardless of the line-up) with BooHoo's festival style.
Festivals, like fashion, are all about expressing yourself. In one of the most creative environments it is easy to lose your sense of self, over pack your travel bag or find yourself wearing last year's must-haves when you should be stocking up on outfits that rival Rihanna's!
Recently voted Best Online Retailer of the year (again), BooHoo is a brand that does not seem to be going anywhere. Best of all, with no item priced over £45 in the festival style collection, it won't break the average students pocket. Ahead of the curve and fearless enough to clash a print, this festival season BooHoo is your style saviour. Do not make any wardrobe choices without reading this: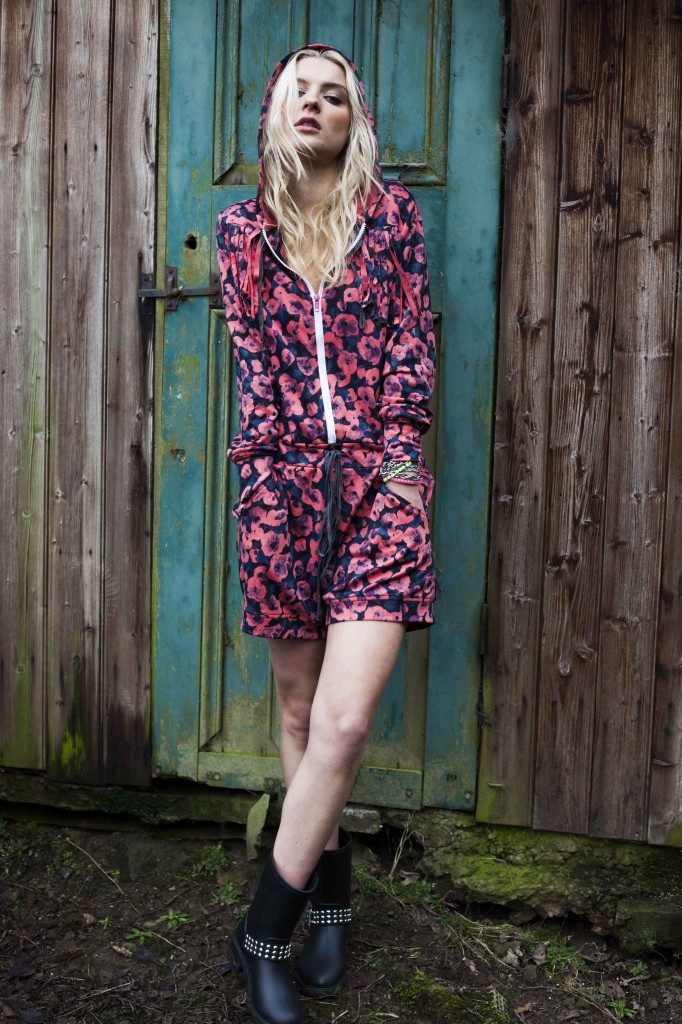 Nothing takes you from day to night like the playsuit. Loose-fitting – so you can drop it like it's hot with the best of them – but just enough structure to emphasise your figure and catch the eye of the cutie next to you. Whether it is rainy days or sunny skies, hood up or hood down you are bound to cause a stir. With a hot pink floral pattern offsetting the navy blue colour of the playsuit, what's not to love? A sure favourite if you are the type of girl that isn't afraid of a bit of mud or likes to immerse herself in the mosh pit.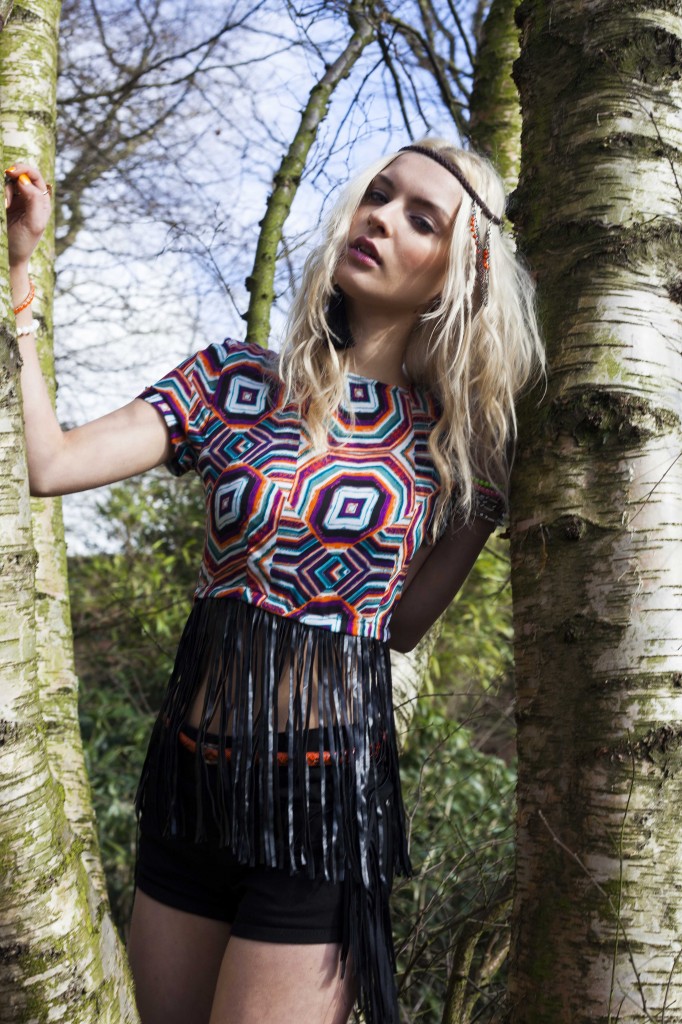 Take your style back to the 70s and embrace your inner hippy with this era-inspired crop top complete with a tasselled hem that is bound to sway along with the music as you do. Pair with black hot pants, a staple for every summer wardrobe and every festival-goer. Accessorise with a bold belt, multicoloured bangles and tame your festival hair with a simple yet chic headband.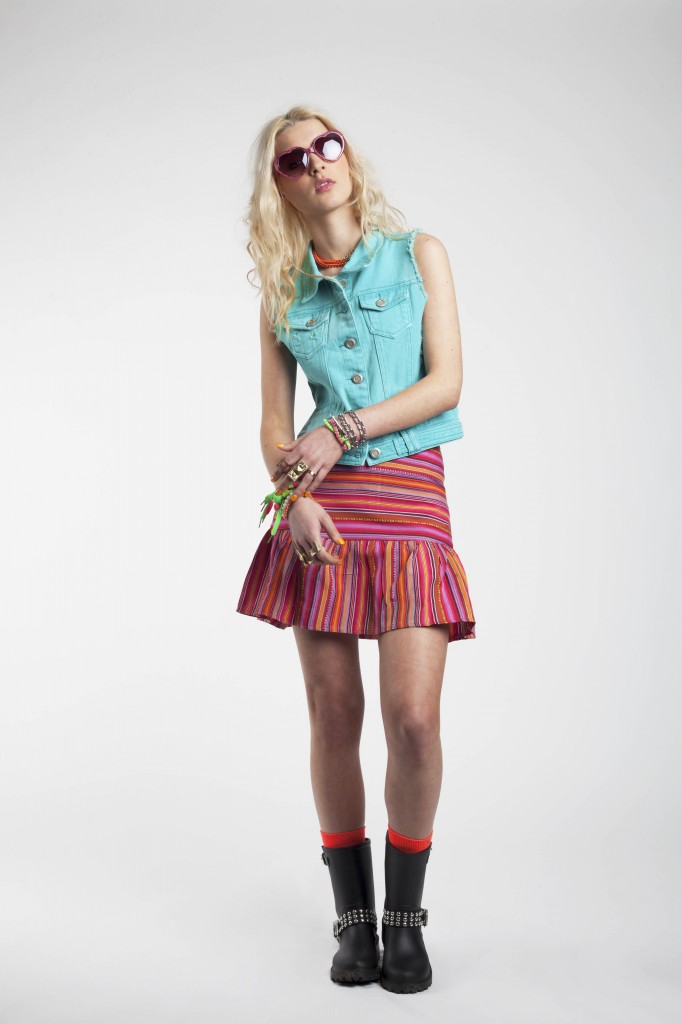 This season colour is everything. Wallflowers beware! It's time to be daring, be brave and say YES to neon and stripes. Show your pins off and work on that tan with this multi-coloured striped dropped-hem skirt. Set it off with a sleeveless neon denim gillet. Show fellow festival-goers that when it comes to dressing to impress you are at the top of the list. Don't forget to unleash your inner celebrity and don those sunglasses, the bigger the better.
By far my favourite style. Nothing says "I just slept in a tent and I still look fabulous" than this throw-caution-to-the-wind boho chic ensemble. Imagine this, it's the second day of Wireless you're pumped up because you're about to see Justin Timberlake live and you stumble across this beauty of an outfit: a classic black maxi-dress edgy enough to make JT direct his lyrics in your direction. Long tassels add length and depth to the dress, taking it from your average LBD to something worth a couple of new instagram pics. Set the piece off with a bright orange loose knit jumper perfect to keep you toasty as the sun sets and fierce enough you can wear over and over again.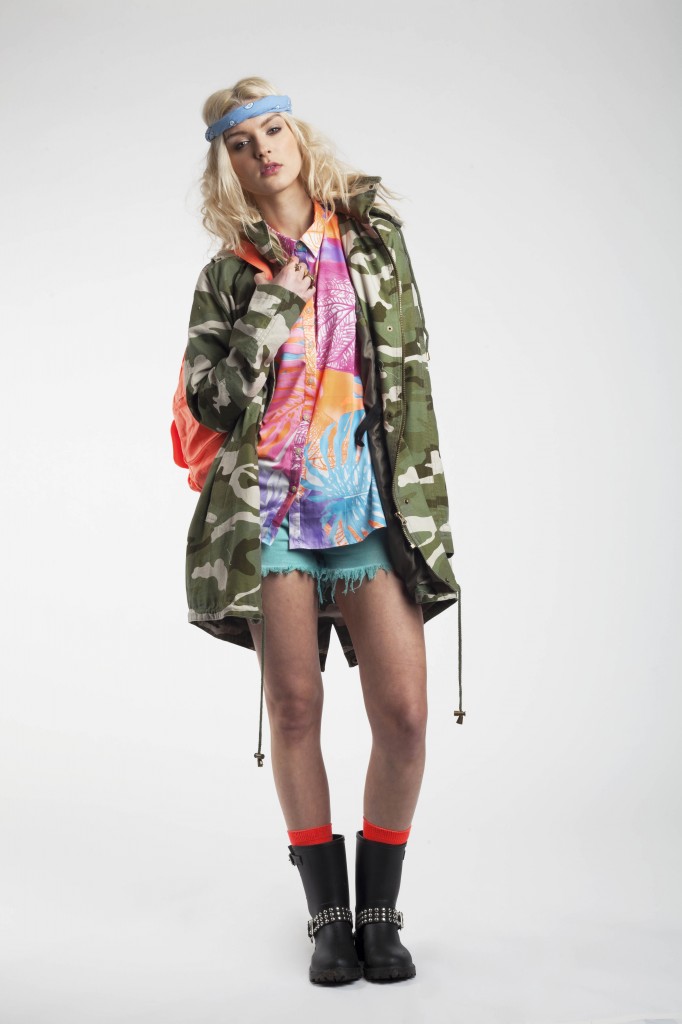 Army will never fade. If you haven't bought your military inspired item yet, opt for this jacket. Effortlessly cool and able to be worn all year round you just can't go wrong. Pair with bright pastel hot pants, a retro Hawaiian t-shirt and prove that fashion rules are meant to be broken.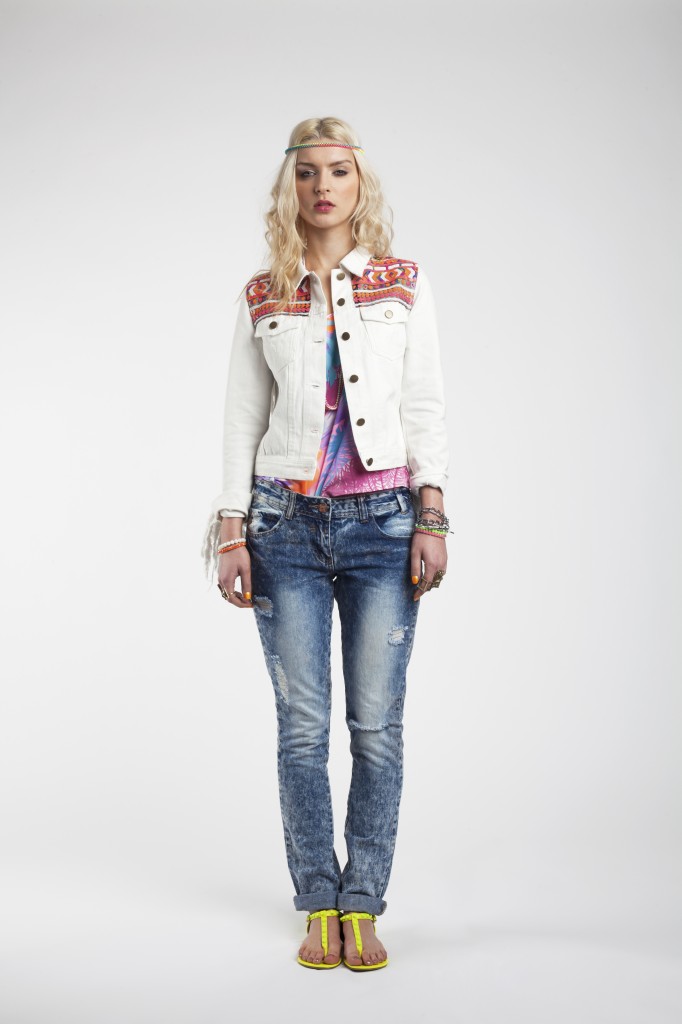 Just because you are at a festival doesn't mean you can't wear white. Make the most of the sunny skies and being outdoors by making the most of your wardrobe. This fitted jacket screams festival style with its Aztec pattern and roll – up sleeves. Wear with jeans to complete the look or mix and match with neon hot pants and stripy skirts. Remember the best thing about baggy jeans is being able to wear pretty sandals to juxtapose the boyfriend fit with the girly-girl accessory.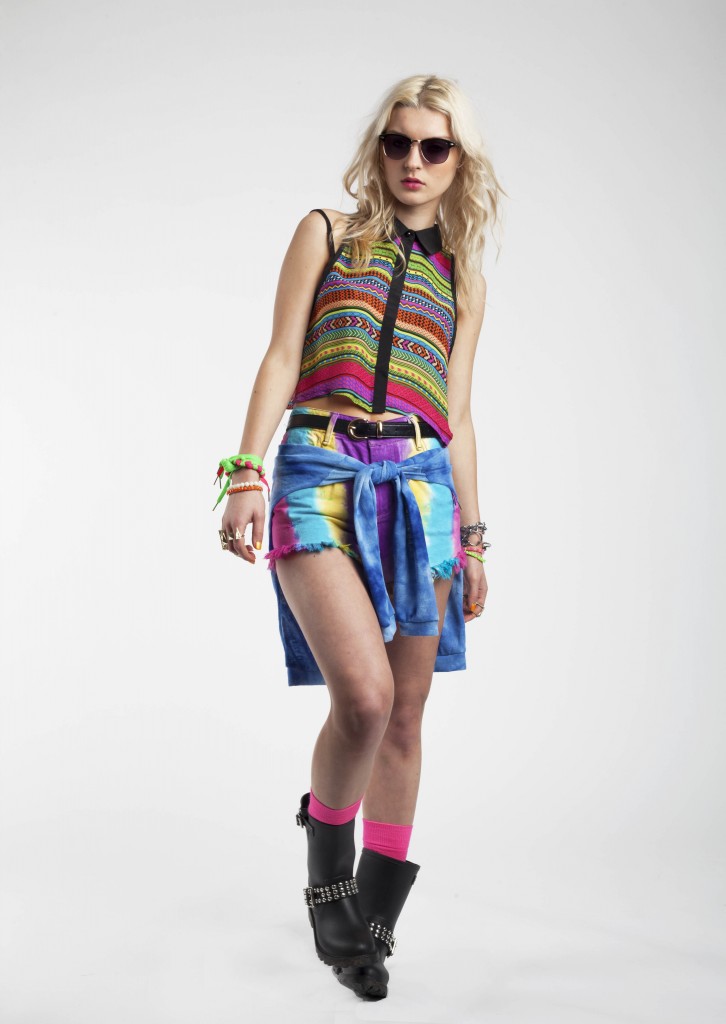 If this doesn't turn heads, then nothing will. For females that want to be noticed and aren't afraid to break the mould and get a little attention for doing so. High waisted tie-dye shorts, an Aztec roll neck crop and bold coloured tie-dye jumper to pull the look together. Ladies, clash until you can't clash anymore. As I previously stated, a festival is all about expressing yourself, we can't all be on stage so do it in the crowds. Get your BooHoo outfit now before it sells out.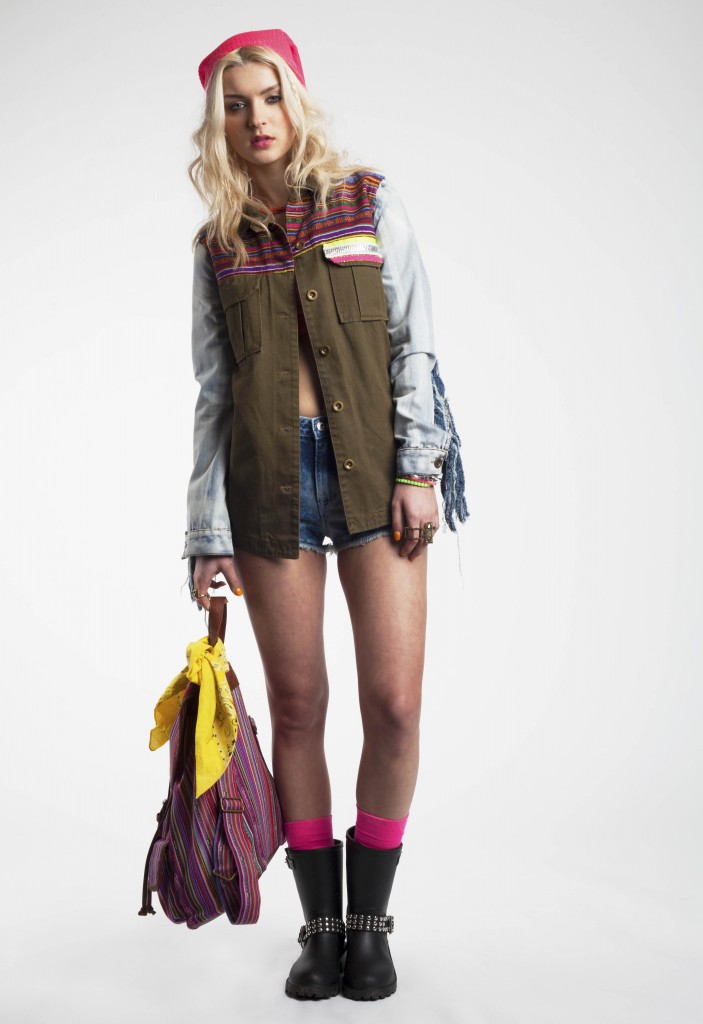 A staple in festival style. The contrast jacket and the classic denim hot pant. Light blue denim contrasted with the dark brown body and Aztec trim proves that this jacket belongs on a girl that isn't to be messed with. This isn't her first festival and it won't be her last. She understands the importance of packing light and packing right so she opts for the piece that is the most versatile. Show some skin and pair with a plain crop top or mix and match styles and go for that must-have Hawaiian shirt.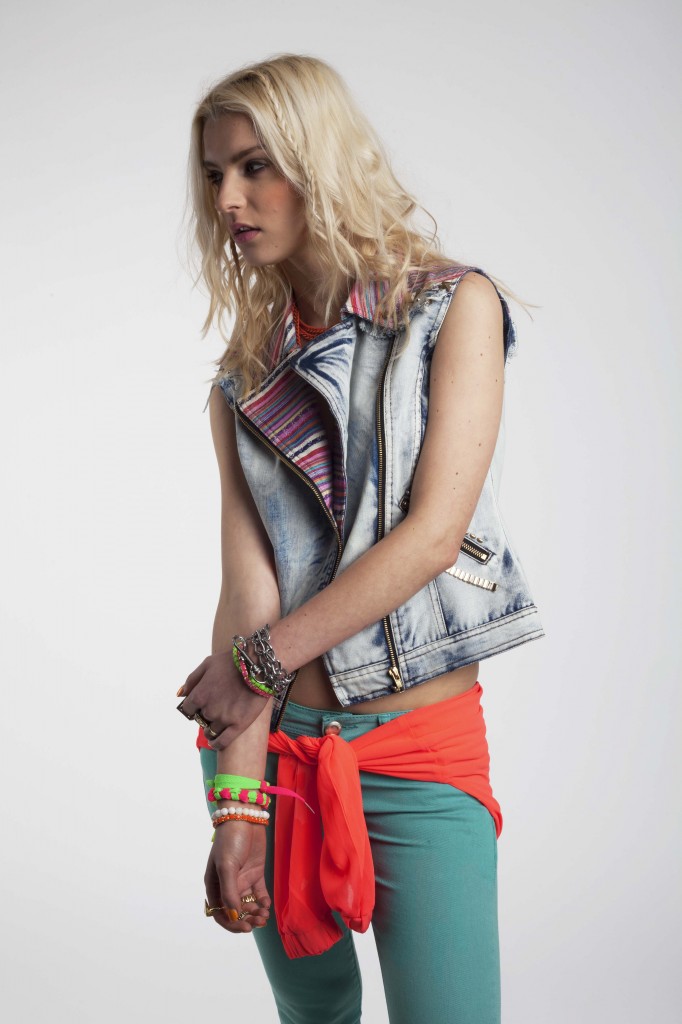 Distressed denim will forever be coveted, add an element of rock and roll to your outfit with this oversized biker-chick gillet. The pattern on the inside speaks for itself, bold bright colours to catch anyone's eye and easy to pair with any colours you may fancy. Team with coloured skinny jeans, comfortable, practical and completely stylish.
Even the festival-goer needs to accessorise. The key to doing it right is simplicity. BooHoo presents bangles and bracelets of every colour, there's no need to take an extra bag of jewellery with you, invest in multi-coloured bracelets that work with each and every outfit. The rucksack is the festival girls life-saver. It allows you to take your necessities with you as you travel through the grounds of the festival. Boohoo is a prime example of backpacks not needing to be boring. Choose a bold colour or opt for a pattern whatever your preference in rucksack apparel.
Shoes. A girl can never have too many shoes. We learnt this with Carrie Bradshaw and we haven't forgotten it since. As much as we'd love to take all our sparkly heels with us, festivals call for practicality. For BooHoo being practical doesn't mean being bland, toss those wellies aside and put on your black leather biker boots with pride. Studded (like all good things are this season) and firm enough you won't get stuck in the mud. Plus, boots like these are wearable all year round. Pair with neon ankle socks for an added boost of colour.
So there you have it, the BooHoo inspired guide to festival fashion. There's something for everyone. Before you pack make sure you check out the website and have a browse through what's on offer. You won't regret it and neither will your wallet. Enjoy festival season!

View the entire collection here: http://www.boohoo.com/restofworld/collections/festival-shop/icat/festivalshop/#esp_viewall=y&esp_pg=1