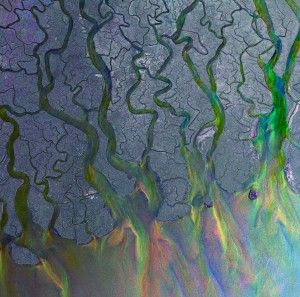 Even after seeing Alt-J perform as a support act a few months ago, I never thought I'd get around to buying their debut album on its eventual release. Let alone, that I'd give it five stars. But in the world of music, surprises await even in the unlikeliest of places.
On the surface, the assembled members of Alt-J look like another of the countless indie line-ups which have come scrambling out of the woodwork in the last decade or so. Their image consists of a familiarly awkward look: twitchy, and perhaps carrying a couple of quirks up their sleeve, but suggestive of thrills which are nothing beyond lightweight. Well, when I finally got around to buying An Awesome Wave, I was pleasantly surprised. The more I listened, however, the more that surprise turned into astonishment. Because this record is more than good: it's amazing.
The sound concocted by the Cambridgeshire-based four-piece has clear influences, though the overall effect never sounds anything other than fresh. Most visibly, the beats and samples the group utilise link them closely to electronica artist Four Tet: witness the main arrangement of the album's skittering centrepiece 'Dissolve Me'. Elsewhere are shades of In Rainbows-era Radiohead, the minimalism of The xx, and equal smatterings of hip-hop and folk. If this sounds messy on paper, it sounds miraculous through the headphones: brimming with invention, earworm melodies and enough ticks and nuances to ensure a shelf-life considerably longer than the sounds of their art-rock contemporaries. And while these points of reference are never far off, the end product is very much its own beast.
I've made my own personal love for albums-as-albums clear in the past, and An Awesome Wave fits this bill with aplomb. This record signposts its own requirement to be listened to as a whole by featuring three interludes and an introduction, and these are no meagre pieces of filler. Each serves as a perfect evolutionary bridge between the songs bordering it. Just listen to the way the ominous a cappella harmonising of 'Interlude 1' seamlessly leads into the thrumming, deeply sensual waters of 'Tessellate'. As implied by its title, this is an album which flows, and flows well.
There is no ignoring the effort that the members of Alt-J pour into their sound. Constantly pushing the envelope, An Awesome Wave is something both different and thoroughly decent.
In a group of eccentric-looking (but undeniably talented) oddballs, Joe Newman's voice is the oddest of them all. Croaky, mumbling and prone to the occasional yelp, his vocals are unusual to say the least, and will likely be the deciding factor in whether or not you're sold on this album. You'll either find yourself hypnotised by the way Newman softly croons obtuse lyrics like a nasally Thom Yorke, or be so put off that you'll chose to end the album early. Lyrically, too, he delves into strange territory. "She may contain the urge to run away so hold her down with soggy clothes and breezeblocks," is the command opening the propulsive, shape-shifting second single (possibly the only song which can be listened to in isolation without losing any of its clout). Eschewing traditional love song platitudes in favour of something much more disturbing, the song ends on a chilling note as multiple harmonies criss-cross each other, blending "I love you so" with "I'll eat you whole". Things are just as menacing elsewhere. "Bite chunks out of me," Newman groans over the addictive, seasick pulse of 'Tessellate', with the group keeping things sparse and restrained to swell the unease.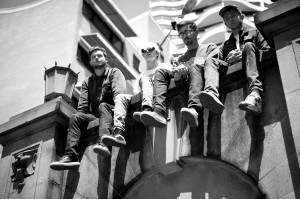 But all the peculiarities can't mask the fact that this music contains some serious muscle. An Awesome Wave packs a serious loud-quiet dynamic which is consistently surprising. The wonderfully atmospheric 'Intro' is utterly gripping from the off: cool, powerful, and a tantalising glimpse into what's in store. From there the album keeps the pace controlled with forays into sci-fi-folk ('Interlude 2', 'Matilda') and warm balladry ('Ms') as it builds towards a triumphant conclusion. The group really show their steel in the crushing heaviness of 'Fitzpleasure', and after a final interlude, the album reaches its glorious crowning moment in the haunting, devastating 'Bloodflood'. It all concludes with the almost-oriental sway of 'Taro', although hidden track 'Handmade' awaits as the album's delicate sign-off.
Some listeners will frown on this album with cries of "pretension", and I'm sure there'll be a fair sum of people who completely disagree with a five-star rating. An Awesome Wave doesn't sound effortless at all: it sounds precise, carefully constructed and colourful in its arrangements. And while there is an argument that music can sound too stodgy and overthought, here that notion is beside the point: whichever way you look at it, there is no ignoring the effort that these guys pour into their sound. Constantly pushing the envelope, An Awesome Wave is an album both different and thoroughly decent.
Don't tune in expecting a ground-breaking, life-changing classic which will stand among the best in your record collection (although it may well do so). Instead, try to approach it with an open mind, preparing to give it a few spins before the magic is unlocked completely. And I strongly urge against cherry-picking a few songs to sample before you decide to give the whole thing a listen. Dive into it headfirst: make your own opinion by playing it in its entirety from start to finish, 'Intro' to 'Handmade', and preferably not just as something to listen to in the background. You'll either listen to it and love it, or listen to it and hate it. But whatever you do, listen to it. Don't let this wave pass you by.
Similar To: Four Tet, Radiohead
MP3: 'Breezeblocks'