The Boar is the University of Warwick's awarding-winning students' newspaper. With a new edition and 3,000 copies published every two weeks, a reach of nearly 12,000 students on campus and thousands more online, we are one of Warwick's most successful societies. We are always looking for new writers to join our team, but now we have an exciting opportunity for anyone interested in journalism: we will be holding elections for the new Editorial and Business Team 2018/2019. The first thing you need to do is buy a membership through the SU website. Then, join our official Facebook group.
You must have membership two weeks in advance if you are planning on voting in the elections. If you are interested in running for any position, please email elections@theboar.org.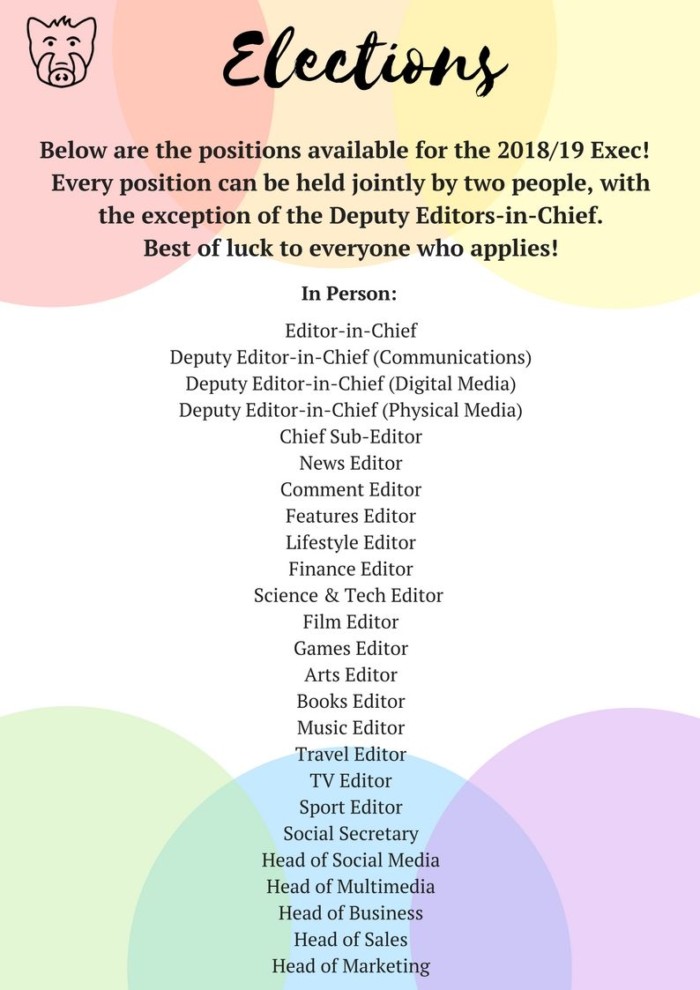 In-person elections
Elections will be held on Wednesday of Week 9, the 7th of February. They will take place in L5 of the Science Concourse building from 1pm onwards.
Everyone will have to make a 2-minute speech about why they would be the best for that role (Editor-in-Chief has a 5 minute speech). This will be shortly followed by questions from the audience.
All additional details will be posted on the Facebook group.
Editorial Team – Senior Team
The senior team includes the Editor-in-Chief and three deputies. They go over the full paper every fortnight and manage the society as a whole. Although each deputy has their own function, all other attributes are shared out among the rest of the team.
Editor-in-Chief
Manages and directs the Boar, and theboar.org

Chairs all meetings of the editorial board

Allocates pages and advertising

Determines the Editorial stance of the publication in conjunction with the editorial board

Is ultimately responsible for the content, appearance and quality of the society's output

Approves spending and the society's budget

Responsible for sending the paper to print
Current: Clara Paniago & Cameron Clark
Email: editor@theboar.org
Deputy Editors-in-Chief
These are three students who assist the Editor-in-Chief.
Acts as editor(s) in the absence of the editor

Takes responsibility for ensuring the quality of the overall paper and making amendments where necessary to sections prior to publication

Supports the editor in the management of all elements of the society's output

The deputy editor role is intended to be a flexible one, and the person filling the role may take on other responsibilities in agreement with the editor. However, specific roles such as communications, production and website ensure an equal distribution of tasks
Deputy Editor-in-Chief (Communications)
Manages communication between potential writers and section editors
In charge of overall social media output
Archival of past issues to the MRC and the British Library
Current: Emma Johnson
Email: communications@theboar.org
Deputy Editor-in-Chief (Digital Media)
Oversees theboar.org
Adds writers to the website
Coordinates Boar Bites with the Multimedia team
Current: Elliot Mulligan
Email: website@theboar.org
Deputy Editor-in-Chief (Physical Media)
Oversees the final product of the paper
Offers InDesign training to section editors
Provides in-depth feedback to section editors
Email: physicalmedia@theboar.org
Editorial Team – Subeditor
Chief Sub-Editor
The Subeditor is responsible for ensuring high standards of grammar, spelling and legibility are achieved within the society's output. They do this by proofreading the entire paper every fortnight and managing the subediting team.
Current: Isabelle Atkins
Email: subeditor@theboar.org
Editorial Team – Section Editor
Becoming an editor for any section within The Boar will mean you are responsible for ensuring the quality of the overall paper and making amendments where necessary to sections prior to publication. You will be trained in Adobe InDesign and WordPress. If you're thinking of applying, please contact the relevant section editor.
Current editors: Sarah Morland & Daniel Ruben
Email: news@theboar.org
Current editor: Matt Allen
Email: comment@theboar.org
Current editor: Branca Lessa de Sá
Email: features@theboar.org
Current editor: Katie Sewell
Email: lifestyle@theboar.org
Current editors: Chiara Castrovillari & Stanley Smith
Email: finance@theboar.org
Current editor: Imogen Cooper
Email: arts@theboar.org
Current editors: Jess Holt & Lucy Armitstead
Email: books@theboar.org
Current editors: Tiff Milner & Giles Hutchinson
Email: film@theboar.org
Current editors: Josh Hatcher & Matilda Smith
Email: games@theboar.org
Current editor: Matea Fadiga
Email: music@theboar.org
Current editor: Reece Goodall
Email: tv@theboar.org
Current editor: Amy Kynman
Email: science@theboar.org
Current editor: Zoe Morrall
Email: travel@theboar.org
Current editor: Alex Jennings
Email: sport@theboar.org
Sales 
The Head of Sales will be helping the Director of Business in securing advertising and building professional relationships with companies interested in The Boar. They are mostly responsible for individual advertisements rather than sponsorship.
Current: Zorez Haider
sales@theboar.org
Business
The Director of Business will be involved in various aspects of the Boar's commercial operations, and will have the chance to gain an insight into the financial planning of one of Warwick's biggest societies
Current: Sarah Brown
business@theboar.org
Marketing
As Head of Marketing, you will be assisting with the creation of campaigns, competitions and marketing strategies to promote our paper. The role also focuses on The Boar's brand and visual identity, so skills in Photoshop and other design software will aid your success.
Current: Marianne Chick
marketing@theboar.org
Social Media
Are you fluent in gifs? Then this may be the perfect position for you. The social media team manages all of The Boar's accounts, like Facebook, Twitter and Instagram. The Head of Social Media is also responsible for a page in every issue, The Bubble. 
Current: Lucy Stubbings
socialmedia@theboar.org
Multimedia
Our multimedia team is in charge of making "Boar Bites" videos and taking specific photos for the paper. If you're interested in photography and video-making, then this is the job for you.
Current: Max Connelly-Webster
multimedia@theboar.org
Social Secretary
For the first time, we are electing social secretaries to the society. This role will involve planning social events, such as the Boar Crawl through Leamington, POP! circles and Boar Awards at the end of the year, as well as helping to organise Tour over the Easter holidays.