The University's pilot 'workforce management' scheme, TeachHigher, has sparked national controversy in the weeks since the Boar broke news of it.
The scheme will eventually see all hourly-paid teaching staff employed by TeachHigher. Opponents of the scheme have raised concerns that staff employed by TeachHigher could lose their job "at any time without prior notice or liability", in accordance with TeachHigher's terms and conditions.
On Tuesday 7 April, the Independent followed The Boar's lead in covering the launch of TeachHigher. This came after national campaign group, Fighting Against Casualisation in Education, reported on the scheme, which they claim will "institutionalise… a two tier system within academia – separating out low paid casualised staff (who increasingly do the bulk of departmental teaching) from permanent staff."
"Academic services department"
This media coverage led to the University releasing a statement on Insite, where it claims "teaching and research will never be outsourced at Warwick." The statement also reiterates that TeachHigher is an "academic services department" and that "staff and students will now find it listed amongst the other academic services departments on the University's website."
When asked if this was a change from its earlier descriptor as a subsidiary (used by the Independent as well as the Boar), Peter Dunn, director of press and policy for the University, denied that TeachHigher had ever been "described anywhere as a subsidiary" by the University.
Mr Dunn highlighted: "From the very beginning, it was set up as an Academic Services Department. It always has been and it always will be an Academic Services Department."
However, this has led to some confusion, as other Warwick Employment Group 'businesses' are owned by wholly-owned subisidiaries, including Unitemps which the University lists as a services department on its website. Many have also expressed concerns that TeachHigher will have to be a company once it is, as planned, franchised to other Universities.
Lucy Gill, former postgraduate officer of Warwick Students' Union (SU), suggested that TeachHigher has many similarities with Unitemps.
At the Universities of Leicester and Surrey, teaching staff are already being hired through Unitemps, a source told the Boar.
Job advertised at £5 per hour
On Wednesday 8 April, a TeachHigher advert for a lecturer job at the rate of £5 per hour was widely shared on social media, drawing comments from across the Higher Education sector.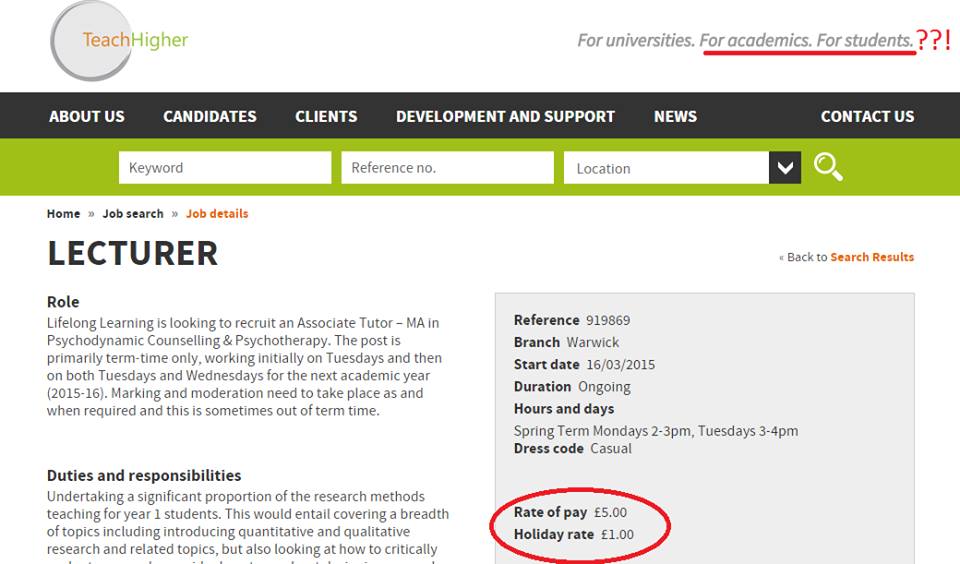 A page was uploaded appearing to advertise a role at £5 per hour it has since been taken down.
The advertised rate of pay was below the National Minimum Wage, causing shock to many students and staff. The University has since revealed it was a test advert, and this information has been added to the webpage.
Mr Dunn urged: "Any actual roles in the future will of course be paid at levels that come from the nationally agreed framework scales for higher education."
Alex Denning, second-year Politics student with experience in web design, told the Boar that "web designers would typically have a private copy of the site used for testing", rather than using the live site. The advert was also accessible via Google Search, which led many to believe it was genuine.
Concerns over staff on visas
In the weeks since the Boar revealed the use of TeachHigher, new concerns have also been raised about the impact this change will have on hourly paid staff from outside the EU.
A member of staff at the University, who wishes to remain anonymous, told the Boar that employment with TeachHigher did not meet Tier 2 Visa requirements – namely, the existence of a post and a minimum £20k salary.
Mr Dunn commented that he couldn't see "how that [Visas] is a factor as this is simply centralising the hourly paid VAM work" and would "not affect roles not already on hourly pay."
The controversy around TeachHigher has led to several groups in the University community pledging to campaign against it, including Warwick Labour and Warwick for Free Education.
ASM motion against TeachHigher
Sources have told the Boar that motion against TeachHigher will be brought to the next All Student Meeting.
Next year's postgraduate officer, Nat Panda, having spoken to hourly-paid staff, has promised: "unambiguous support from the SU to students who are facing the outsourcing of their jobs, whether that outsourcing is via a subsidiary company or otherwise."
The sabbatical officers at the SU are "still scrutinising the scheme to ascertain the impact that this department will have".
However, they have promised to lobby for "the best possible deal for our postgraduates that teach", the Sabbatical officers "look forward to publishing updates very shortly."
Warwick UCU, the trade union for academics at Warwick, has announced a public meeting on the issue of TeachHigher for Wednesday 22 April, from 5 pm in H1.48 (Humanities building).
They have stated that the meeting will be informative, as well as a forum for those organising motions against TeachHigher. Over 100 students have already joined the event on Facebook.