Following the success of Warwick Jailbreak last term, two societies have organised Lost, a new event encouraging Warwick students to raise money for charity.
The concept is simple: get on a bus, get lost and get back again.
The event, which according to the organisers has had great success at other universities, is a collaboration between Warwick Raising and Giving (RAG) and Warwick Jailbreak.
Having raised sponsorship to take part in the event, the participants (wearing fancy dress) will be driven to a secret location. They then have to get back to campus without any money within 36 hours.
The Facebook event page describes it as "Jailbreak in reverse".
According to Harrison Gould, president of Warwick Jailbreak, they have had a strong response to this new concept: "It's gaining a lot of interest because of the adventure element.
"People find it scary yet exciting that they don't know where they're going to be dropped off. It could be on a beach, up in Scotland,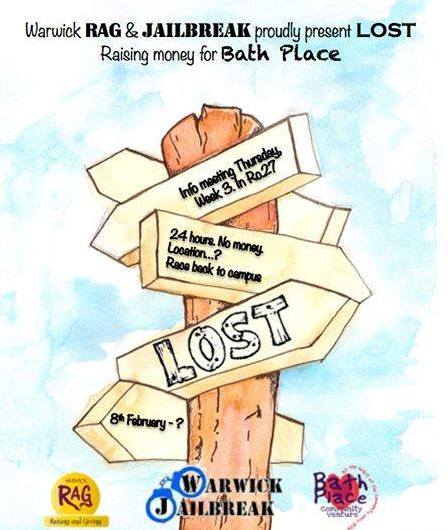 Central London, or even Dover, a notorious Jailbreak stumbling point!"
The money raised will be going to the Bath Place Community Venture in Leamington Spa, which is to be renovated after burning down in 2009.
Clayton Denwood, operations manager at Bath Place Community Venture, commented: "Warwick students and Bath Place Community Venture have a long history of working together, from the Law Society's legal advice clinics to the Leamington Community Kitchen, and countless successful fundraising events.
"As a charity and voluntary organisation, we have always been able to count on the support and enthusiasm of the local student population, and hope to do so well into the future.
"We would like to extend our thanks to Warwick RAG and Jailbreak, and all the participants for offering the much-needed and welcome proceeds from Lost 2014. We wish all participants an amazing adventure."
Mr Gould added: "For this smaller event, we wanted to find a local cause that would resonate with students.
"Bath Place is in the centre of Leamington and has gained much interest among students. The Students' Union had already outlined their support for the venture, and we wanted to strengthen this support in a financial way."
Greta Grigaleviciute, first-year Politics and International Studies student, thinks the new event sounds exciting. She participated in Jailbreak in November, and thought it was a great experience: "My team and I got to Lille, in France. It's not so far away from campus but our aim was to go outside the UK.
"And we did it! In my opinion, every idea which is based on raising money for charity is incredible."
Lost starts at 9am on Saturday 8 February and ends 36 hours later. The progress of the students can be tracked here, where participants will text in with their location.
The event can be followed on Twitter with the hash tag #GetLost2014, and on Facebook.
The Bath Place Community Venture can be found on Twitter and on their website.
Related Posts