In anticipation of this year's Summer Party, Michael Perry speaks with Nile Barrow, lead vocalist and guitarist of By The Rivers.
Boar Music: Hi Nile, how are you guys getting on today?
Nile Barrow: Not too bad thank you, can't complain!
BM: Are you gearing up for any shows in the coming weeks?
NB: We've actually got a bit of time off at the minute.  Our trumpet player [Leo May] is studying for his uni exams, which has given the band a bit of a break.  We're not going to be gigging again until June, so a couple of the guys are going on holiday.  It's the calm before the storm [laughs].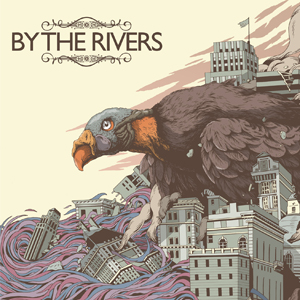 BM: Sounds fantastic!  Of course, you're taking this break off the back of the release of your debut album.  Are you happy with the finished product and its reception thus far?
NB: Yeah, it's been such a long time coming.  We recorded the album about a year ago, and it's just taken a long time to get everything finalised.  But it's amazing to have the record out at last, and we're all really thrilled with the reactions so far.
BM: For the album's launch, you held a show at the O2 Academy Leicester on Sunday 5th May.  How did that go?
NB: It was absolutely amazing – easily one of my highlights of the year.  We never expected the amount of people who were there, and it ended up being a great night.  We won't be forgetting it in a hurry.
BM: Your support acts were Hallowed People and The Talks…
NB: That's right: two great bands.  They really contributed to make it such a fantastic event for us.  You should check them out.
BM: Did you choose them personally?
NB: We did: Hallowed People are an up-and-coming Leicester band.  A few of us had been to some of their gigs before, and because they're such a young group, we really wanted to get them on board.  We recently played with The Talks in London, and they were fantastic at getting the crowds going.
BM: As mentioned, this was at the O2 Academy in Leicester.  Did you enjoy performing at such a well-established venue?
NB: Yeah, well, performing at a venue like that, there are so many things which are so much better.  It sounds quite boring, but just having access to decent monitors and a strong sound system makes you feel a lot more comfortable – and professional – when performing live.
BM: Moving onto the album itself, the artwork was designed by Joe Wilson, an illustrator who also hails from Leicester.  Did you guys know him beforehand or was this a choice made during production?
NB: I didn't personally know him beforehand, but a few of the others in the band did.  As soon as we were all familiar with his work, asking for his involvement was a bit of a no-brainer. All the stuff he came up with for the singles was absolutely brilliant, and we were chuffed with the chance to work with him.
"The Summer Party crowds were brilliant last year.  Everybody was just there to have a good time, so the atmosphere was fantastic.  I'm sure it'll be just as good this year."
BM: You'll be returning to Warwick this summer to play at our Summer Party, which you also performed at last year.  Are you excited to be back?
NB: Definitely, we really are.  It's looking like another great lineup this year, so it'll be a lot of fun once again.
BM: How did you find the Warwick crowds last time?  Have they set themselves a high bar to top?
NB: They were brilliant last year.  To be honest, we didn't know what to expect, having not done anything like it before.  Everybody was just there to have a good time, so the atmosphere was fantastic.  I'm sure it'll be just as good this year.
BM: This year, you'll be sharing a stage with the likes of Rudimental, Labrinth and Mikill Pane.  Are you excited to be part of such a lineup?
NB: Definitely; we've actually seen a lot of those acts perform live ourselves, so we're all buzzing.  It's going to be a fun day.
BM: Will we be seeing you in the crowds?  I remember spotting Leo dancing to Post War Years last time…
NB: [Laughs] Yeah, Leo will definitely be dancing; he's got some moves.  Keep an eye out for him: he likes to go a bit crazy.  But of course, all of us will be out and about, mingling with the audience.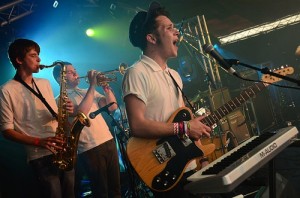 BM: We'll keep our eyes peeled.  For people who aren't familiar with your sound, it's been described as an amalgamation of several genres, including ska, reggae and indie-rock.  How would you personally summarise your musical style?
NB: Reggae is a definite reference point, but I'd also say we have heavy afrobeat and soul influences, given that those are the genres we're all most into.
BM: It's quite unusual – but refreshing – to hear a young band employing such influences.  Would you say you are quite unique as a group, or are there many contemporary acts with whom you share affinities?
NB: There's not a massive reggae scene at the minute; it's still quite underground.  A lot of people haven't really come across it yet, so it still sounds quite fresh.  It's quite different to most indie bands we often hear on the radio, which does help to attract listeners to our own music.
BM: Being in a group of six musicians, could you explain the song-writing process?  Is there often a clash of interests, or are things kept quite harmonious?
NB: Previously, Jordan [Birtles, drummer] and I would lead the ideas board, bringing up starting points and taking it from there, and it still works like that to a degree.  But we've since become much more democratic in our processes, and our songs are now much more band-based.  With our newer tracks, especially, you can hear the influences from other members, with different genres coming into play.
BM: Are there any songs which you've written which you're particularly proud of, or that you're most keen to play in a live environment?
NB: At the moment, 'Run Home' is something of a favourite.  There's a stronger afrobeat influence behind it, and a Caribbean feel to its sound.  It's always a lot of fun playing that one.
BM: Looking further ahead, where would you like to be in several years' time?
NB: Hopefully, we'll have made more of a name for ourselves, and I'd love to reach a level where we can make a living from what we're doing.  At the minute, a couple of the guys are working part-time, so it'd be amazing to get to a level where we don't have to worry about funds, and we can just keep on playing live as much as possible.
BM: You're also hoping to bag a slot at the Y Not Festival this summer…
NB: [Laughs] We didn't even realise we were in the running until the other day!  We suddenly had a message saying that we'd been shortlisted.  It was crazy, but thank-you to everyone who's asked for us back.  Fingers crossed, we'll have that to look forward to.
BM: Thanks so much for your time, Nile; we really look forward to seeing By The Rivers again in June.
NB: Nice one, see you there.  Thanks a lot man, take care.
By The Rivers' self-titled debut album is out now, available on the band's website.  This year's Summer Party takes place on Sunday 23rd June.
Related Posts